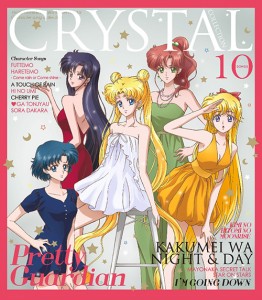 A Sailor Moon Crystal Character Song Collection CD will be released on April 29th. A preview of this CD has been posted to the Official Sailor Moon site. Just what is this? This is not music or songs from Sailor Moon Crystal but rather songs performed by the voice actors from the show. The old Sailor Moon Anime frequently had these and occasionally included them in the series. The site mentions that it has been nearly 20 years since the release of a Character Music Collection. This should be a surprise to fans of the 2003 Sailor Moon Live Action series which had many albums and singles of character songs by the main cast.
The full track listing in Japanese is on the Sailor Moon official site. There are 10 tracks in total. Songs will be performed by the voices of Sailor Moon by Kotono Mitsuishi, Sailor Mercury by Hisako Kanemoto, Sailor Mars by Rina Sato, Sailor Jupiter by Ami Koshimizu, Sailor Venus by Shizuka Ito, Tuxedo Mask by Kenji Nojima, Jadeite by Daisuke Kishio, Nephrite by Kosuke Toriumi, Zoisite by Masaya Matsukaze and Kunzite by Eiji Takemoto. All of the Sailor Guardians have their own solo tracks, as does Tuxedo Mask. The Shitennou all perform together on one track. Two duets are done, one with Sailor Mercury and Sailor Jupiter and the other with Sailor Mars and Sailor Venus. The final track has all of the Sailor Guardians performing together.
You can preorder the CD from Amazon Japan or CD Japan for 3240 yen, about $27 US.