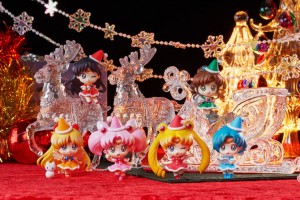 Merry Christmas and a Happy New Year! Nearly 5 months before actual Christmas Bandai enveiled these Christmas themed Sailor Moon Petit Chara figures at Wonder Festival 2015. These variant figures of Sailor Moon, Mercury, Mars, Jupiter, Venus and Chibi Moon are in their Sailor Guardian forms but with Santa Claus hats and outfits matching their colours. In addition many of the Sailor Guardians have a special item. Sailor Mercury has a book of carols. Sailor Mars is holding a candle. Sailor Jupiter has a bag of gifts. Sailor Venus has angel's wings. A mini Artemis which resembles a small snowman accompanies Sailor Venus, though no Luna appears to be included in this set.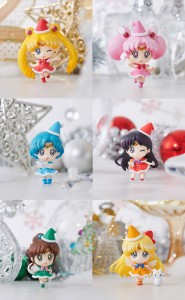 Why now? Why not at Christmas time? Well the toys will actually be released in November, they're just being announced now. Wouldn't these toys make great Christmas decorations?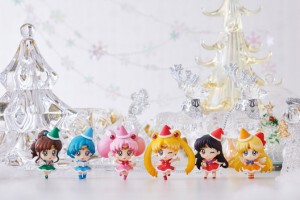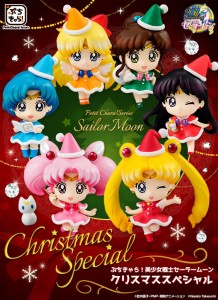 Source: Sailor Moon official site (Post 1, Post 2)
Relevant:
Keep reading for individual photos of the figures.