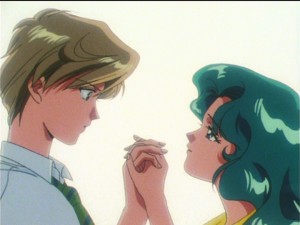 The two latest episodes of Sailor Moon S are now available on Hulu and Neon Alley. This week a ton is revealed as we get two of the better episodes of the season and one of my favourite episodes of the series as a whole. We find out who has a Talisman, we see the Holy Grail, Super Sailor Moon and even a new character who will be real important later this season. As of episode 110 we have a slightly modified intro. Sailor Chibi Moon and Hotaru appear where they did not in the intro for episode 109. They will both feature prominently for the rest of the season.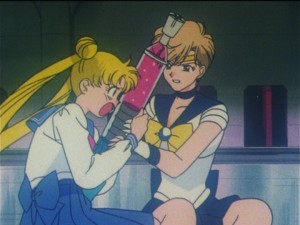 Episode 110, The Death of Uranus and Neptune: The Talisman Appears, has Eudial finally discovering who's Pure Hearts are Talismans. She contacts Haruka and Michiru to let them know about it. They are troubled by this, as to their understanding extracting these things will mean the death of those who have the Talismans, but they have been prepared all season to have blood on their hands to get them. Anything to stop the end of the world! Haruka is unhappy with Usagi being Sailor Moon, so she takes her transformation broach. There's a lot of that going around. Everyone is off in helicopters of all things to meet Eudial. We learn that the Talismans are actually in Sailor Uranus and Neptune. As they were prepared to take the lives of others to save the world, they are equally prepared to take their own lives. First Sailor Neptune has her Pure Heart extracted, and then Sailor Uranus uses Eudial's weapon on herself, extracting her own Pure Heart. All hope seems lost as Sailor Uranus and Neptune are seemingly dead with their Talismans revealed! To be continued!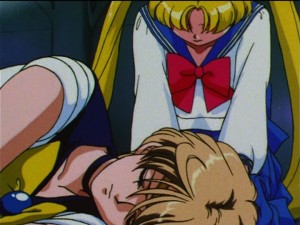 This episode is full of great drama, and Haruka and Michiru first struggle with the idea of having to take someone's life to save many, and then later have to sacrifice themselves to do so. It's a moral question that is weighed over and over throughout the series. Is it worth the sacrifice of one life to save many? A twist of the classic trolley experiment. In the Utilitarian eyes of Haruka and Michiru the answer is yes, but Usagi feels much differently. No single life can be sacrificed to save others.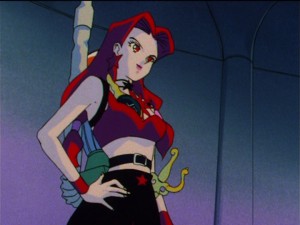 Episode 111, The Holly Grail's Mystical Power: Moon's Double Transformation, follows where episode 110 left off with Sailor Neptune and Uranus dead! Or are they? Eudial takes off with the two Talismans and there's a silly bit where the Sailor Guardians get stuck in glue. Finally a familiar face shows up and reveals herself to be Sailor Pluto! Although Sailor Pluto appeared briefly in Sailor Moon R this is the first time we see her in her civilian form, Setsuna Meioh, and therefore the first time she is seen transforming. It turns out she could have saved us a bunch of trouble because she knew all about the Talismans and has one herself! Once the three are put together we get the Holy Grail. Why is Viz trying to spell it Holly Grail? No idea. It's just nonsense. The Holy Grail is a well established religious item, the target of King Arthur's quest, and holly is a kind of plant we decorate with around Christmas time. Luckily in the episode itself the item is referred to as the Holy Grail, not the Holly Grail. Anyway with the three Talismans together Sailor Neptune and Uranus's Pure Hearts are restored and all is good! Now Sailor Moon can transform into Super Sailor Moon, allowing her to get a nice new outfit, and Sailor Chibi Moon gets these little things in her hair. Cool? With that Eudial is quickly defeated, but she does not die at the hands of Super Sailor Moon. Trying to drive away she learns from Mimete of the Witches 5 that her car has been sabotaged, causing her to fall of a cliff seemingly to her death. She is never seen again. Mimete is pretty much terrible. She will be the focus on the next bunch of episodes as she takes over as the main villain. We will be made to feel sorry for her later but try to remember this cold blooded murder when that time comes. A new character is seen in this episode as a young girl is seen screaming when the Holy Grail is created. This is Hotaru Tomoe, the daughter of Professor Tomoe. We'll be seeing more of her real soon.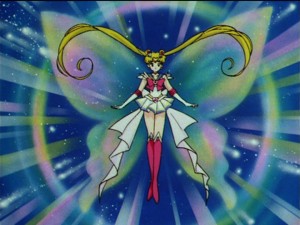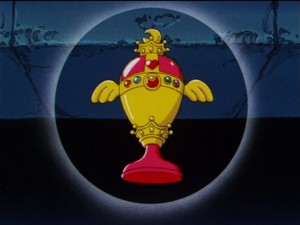 Support the site by buying Viz's dubbed and subbed episodes of Sailor Moon on DVD or Blu-Ray using the links below: