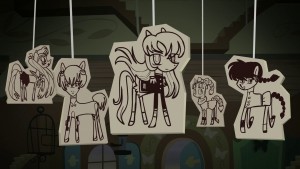 A recent episode of My Little Pony Friendship is Magic features a Sailor Moon reference. This is in the episode Scare Master, the 21st episode of season 5, which originally aired on Halloween. In this particular scene Fluttershy is trying to scare her friends, as part of Nightmare Night, failing entirely. One of her attempts shows them five paper cutouts. She explains that they are "Unplanned guests. Your worst nightmare. You don't have enough fruit for them." These five cutouts are of popular 90s anime characters, reimagined as ponies. From left to right they are Sailor Moon from Sailor Moon, Rei Ayanami from Neon Genesis Evangelion, Utena from Revolutionary Girl Utena, Bulma from Dragon Ball and Ranma from Ranma 1/2. Whoever put together this visual gag must have been into anime around the same time I was in the 1990s!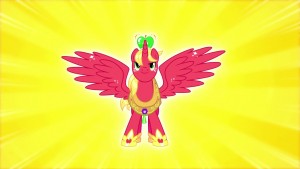 This is not the first reference this season. Earlier this year in episode 13, Do Princesses Dream of Magic Sheep?, Big McIntosh does a Sailor Moon like transformation. This scene happens in a dream world where anyone can do what they want and apparently Big McIntosh dreams of transforming into a Pretty Guardian. This could be a reference to any sort of Magical Girl anime, but Sailor Moon in the most popular which would make most assume this was the reference. Watch a YouTube clip of the transformation below.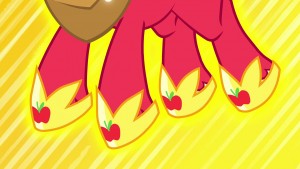 There are many Sailor Moon references in the My Little Pony show and comic due to much of the creative staff being a fan and the fact that the show is constantly referencing dozens of things an episode. We previously showed the similarity between My Little Pony's Crystal Empire and Sailor Moon's Crystal Tokyo as well as Sailor Moon references in the My Little Pony comic. I found that many scenes from the first episodes also resembled Sailor Moon in less overt ways.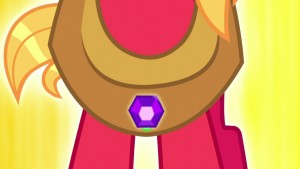 Thanks to LioConvoy for letting me know about the most recent reference. I found the Big McIntosh clip on Moon Chase! while investigating.