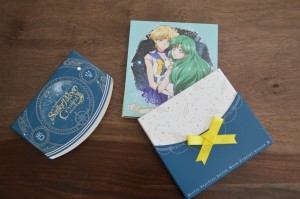 The latest Blu-Ray release for Sailor Moon Crystal's Infinity Arc was released on July 27th in Japan. This is the second of three releases covering this story arc and includes episodes 30 through 33. The set also includes a 24 page booklet with episode descriptions, interviews and character art. This is a Japanese only release with no English subtitles. You can order it from online retailers such as Amazon Japan for 6516 yen, about $65 US.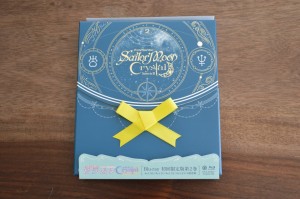 The packaging for this release highlights Sailor Uranus and Neptune with a great cover image on the Blu-Ray itself. The colours on the box match Sailor Uranus's Sailor Fuku with a yellow bow.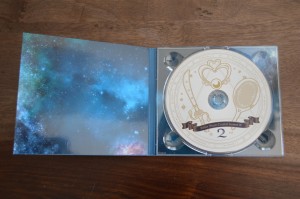 Episodes included in this release are Act 30, Infinity 4 – Sailor Uranus – Haruka Tenoh – Sailor Neptune – Michiru Kaioh, Act 31 – Sailor Pluto – Setsuna Meioh, Act 32 – Infinity 6 – Three Guardians, and Act 33 – Infinity 7 – Transformation – Super Sailor Moon. These cover the Witches 5's Viluy, Tellu, Cyprine and Ptitlol, the appearance of Setsuna Meioh and Sailor Pluto as well as the origins of the Holy Grail and Sailor Moon's transformation into Super Sailor Moon. Also included is the first appearance of Sailor Saturn, but only in flashback form, and a brief appearance by Mistress 9.
I watched all four episodes and didn't notice any changes in animation from the original streaming release as had been done with the first 26 episodes. As there were no changes to the last release either I suspect we won't be seeing any changes to the episodes of this story arc.
The packaging advertises a 28 page booklet. Funny I only counted 24. I suppose we could be really creative and count the cover page and back cover as "pages"? Like with other booklets this includes episode summaries, interviews and character art. This one includes interviews with five voice actors Misato Fukuen, Sailor Chibi Moon, Junko Minagawa, Sailor Uranus, Sayaka Ohara, Sailor Neptune, Yukiyo Fujii, Sailor Saturn and Ai Maeda, Sailor Pluto.
Some audio commentaries are also included with the episodes themselves. The same voice actors appear for all four of the commentaries. This includes Hisako Kanemoto, Ami, Rina Sato, Rei, Misato Fukuen, Chibiusa and Yukiyo Fujii, Hotaru. I don't speak Japanese so I don't know what they talk about.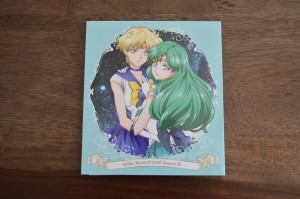 It's a bit hard to justify buying this Japanese only release at this price which is close to what you'd pay for the entire 14 episode Dark Kingdom story arc in Japanese and English. Surely the four episodes per disc is a better deal than with earlier releases but since there are no changes to the animation this time around you can still watch the streaming version for free instead of buying this.
The third volume, including the final five episodes of this story arc, will be released on Blu-Ray on August 31st. You can preorder it online from sites like Amazon Japan. It costs a bit more, with an MSRP of 10,584 yen, about $105 US dollars. This post on the Sailor Moon official site indicates that the version will include a box to store all three volumes in, which seems to justify this roughly 50% increase from the previous volumes.
Keep reading for more images of the packaging including photos of all pages of the included special booklet.