From now until midnight on Sunday May 25th at Arteesel you can pick up a couple of great Sailor Moon shirts for $12 a piece. "Soldier of Love and Beauty" features a silhouette of Sailor Venus against an orange or blue background. "Usagi and the Starry Night", which we posted about before, features Super Sailor Moon in a style reminiscent of Vincent van Gogh's Starry Night.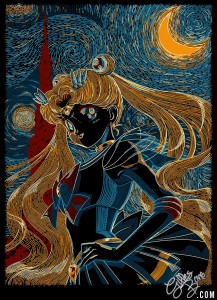 The Sailor Venus shirt is made by artist sigma-astra. Check out her Facebook page, Redbubble store and Society6 store for more of her stuff. She's done a set of five shirts in this style, which are also available at her RedBubble store.
The Van Gogh shirt is designed by Gilles Bonne. Check out his personal web site, Red Bubble store, Facebook, Twitter, deviantART or tumblr pages for more of his stuff.