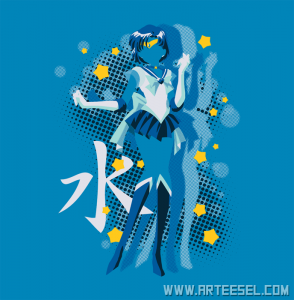 From the next couple of days this "Soldier of Water and Wisdom" shirt featuring Sailor Mercury will be for sale at Arteesel. Shirts on Arteesel go on sale for 3 days at a time for just $12, so you'll have until the end of the day Tuesday March 4th, Eastern Standard Time, to pick this shirt up.
The artist is sigma-astra. Check out her Facebook page, Redbubble store and Society6 store for more of her stuff. She's done a set of four shirts in this style, which are also available at her RedBubble store.
Keep an eye out on Arteesel next week when a couple more Sailor Moon shirts. We'll be sure to post about them here as well.
Possibly Related Posts