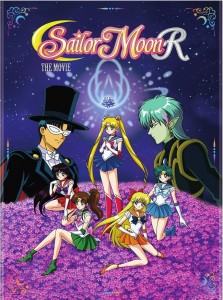 Great news for fans who use the Funimation streaming service to watch anime. Sailor Moon R The Movie will be added to that service on August 7th. The dubbed and subbed versions of the film will be available to watch for free with ads or, for those who have signed up for the pay version of the service, without ads.
The movie is currently available to stream on Crunchyroll which also has the option of watching the film for free with ads or without ads with a paid subscription. There's no indication at this time as to if or when Sailor Moon S The Movie or Sailor Moon SuperS The Movie (The Nine Sailor Guardians Unite! Miracle of the Black Dream Hole) would be added to either service. The original Sailor Moon anime series is not on either of these services but American fans can stream it for free on Viz's web site or with a paid Hulu subscription while Canadians can stream it on TubiTV.
Sailor Moon R The Movie is my favourite of the Sailor Moon films and it's always a joy to watch. If you haven't seen it in a while this would be a nice time to watch it!