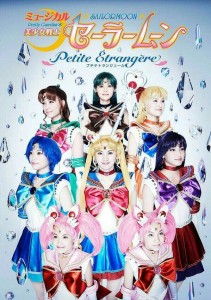 The Sailor Moon official site has been updated with a new poster for the upcoming musical Sailor Moon Petite Étrangère! This poster features the cast of the musical including new characters Sailor Pluto and Chibiusa. A pre-sale lottery is starting today and will run until Sunday June 15th. More details about that can be found at this site.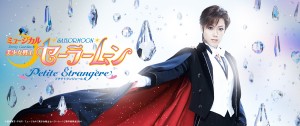 Sailor Pluto will be played by Mikako Ishii, a Japanese model. Chibiusa and Sailor Chibi Moon will be played by Kokoro Kuge, a 10 year old actress, and Airi Kanda, an 11 year old actress. There are two actors playing the role of Chibiusa which was the case for earlier musicals in which she appeared. In keeping with the Sailor Moon La Reconquista musical, this show will have an all female cast. Not shown in this poster but also appearing in this musical are Erika Mahiro as Prince Demande, Sora Manami as Saphir, Riona Tatemichi as Rubeus, Mitsumi Hiromura as Esmeraude and Yui Ito as Black Lady.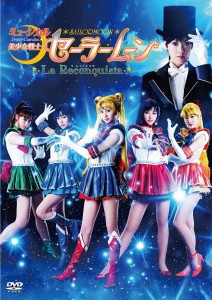 The Pretty Guardian Sailor Moon La Reconquista musical which played last September will be available on DVD starting July 9th. You can pre-order it from Amazon Japan (6264 yen or $61 US) or CD Japan (7800 yen or $76 US). The DVD is a 2 disk set including behind the scenes footage and a 24 page booklet. This is a Japanese language DVD which is region coded to play only on Japanese or region free DVD players. Why this isn't released as a Blu-Ray in 2014 is a mystery to me.