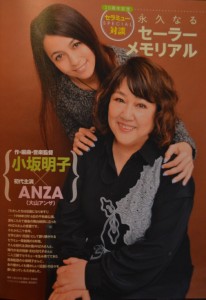 A two day concert named "Akiko Kosaka's 45th Anniversary Sailor Moon Music History Supported by Pretty Guardians" will be taking place in Tokyo on November 9th and 10th. This two days concert will actually include two different performances with completely different artists on each day. November 9th will be a relaxed piano concert with some conversations and the 10th will have a band performance. So what exactly is this? Akiko Kosaka is well known for having written many songs for the original Sailor Moon anime as well as Sailor Moon Crystal but in this case it is likely her involvement writing many songs for the Sailor Moon musicals which is the basis for this concert. We can tell from the other artists appearing at this event that this will almost certainly involve performances of a number of Sailor Moon musical songs as this will involve performers from the musicals. Across the two days actresses who portrayed almost all of the Sailor Guardians in the musicals, that being everyone but Sailor Pluto, as well as others will be performing. Sailor Pluto is likely only absent because Yuuko Hosaka, who originally played Sailor Pluto in some musicals, was originally scheduled to be involved with the event but had to cancel.
With this year's Sailor Moon musical being delayed until 2020 this concert may serve as a nice alternative for some fans. I can only speculate as to the specific format but with there being performers to represent each characters with no duplicates it seems likely that some effort to have someone take the part of the Sailor Guardian they previously portrayed is likely. Will they wear some sort of costume or just sing some classic songs? Who knows! Here's a breakdown of who's going to be involved and when.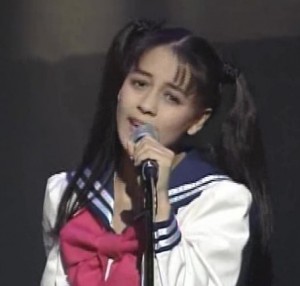 Not everyone is going to be involved with both days, but here's a list of the actors which are going to be there for both November 9th and 10th. Akiko Kosaka, who's career is being celebrated with this concert, will evidently be there for both days. Anza, the first actress to play Sailor Moon in a musical from 1993 to 1998, will likely be performing as Sailor Moon. Hisano Akamine, the third actress to play Sailor Mercury from 1999 to 2000, will likely be performing as Sailor Mercury. Misako Kotani, the second actress to play Sailor Mars from 1994 to 1997, will likely be performing as Sailor Mars. Emi Kuriyama, the seventh actress to play Sailor Jupiter from 1999 to 2000, will likely be performing as Sailor Jupiter. Akiko Miyazawa, the fourth actress to play Sailor Venus also played Queen Beryl and musical exclusive characters Bilhah Emerald and Elizabeth Bathory, a vampire. She will likely be performing as Sailor Venus. Sanae Kimura, the first actress to play Sailor Uranus from 1994 to 1997, will likely be performing as Sailor Uranus.
Yuuta Mochizuki, the second actor to play Tuxedo Mask, also played Kunzite in the very first musical and later the musical exclusive character Count Dracul. He is also well known for playing the Red Power Ranger in Zyuurangers, the series which was adapted in North America as the original Mighty Morphin' Power Rangers. He will likely be performing as Tuxedo Mask. Hikari Ono has played Hawk's Eye, Sailor Star Maker, Loof Merrow, a musical exclusive pirate, Bloody Dracul Vampir, a musical exclusive vampire who is Dracula's daughter, and Prince Demande. It isn't clear who she would be portraying in this concert as there doesn't seem to be an actress to represent each of the Sailor Starlights.
The only person who will only be at the first day performance is Sakoto Yoshioka who played Princess Kakyuu in a musical in 1997. While it's possible that she could be reprising her role as Princess Kakyuu, there is currently only one Sailor Starlight scheduled to be present on the first day so it doesn't really add up.
There are a more performers who will only be there on the second day. This is when the full cast was originally planned to be together all at once. Yuuka Asami, the sixth actress to play Sailor Neptune from 1999 to 2002, later returned to play Jadeite in 2003. She will likely be performing as Sailor Neptune. Mao Mita, the fourth actress to play Sailor Saturn from 1999 to 2000, will likely be performing as Sailor Saturn. Tamaki Dia Shirai, the third actress to play Chibiusa from 1995 to 1996, will likely be performing as Sailor Chibi Moon. Ryuuji Kasahara played a number of characters including Kunzite, Death Ra, a musical exclusive member of the Death Busters, Tiger's Eye, MC Fly, a musical exclusive minion of Galaxia, Chaos, Professor Tomoe, Baron Gilles de Rais, a musical exclusive vampire, and Dark Nibiru, a musical exclusive character. It's not clear who he will be portraying. Momoko Okuyama, the first actress to play Sailor Star Healer in musicals from 1996 to 1998, may be reprising her role but once again as there is no Sailor Star Fighter actress involved we can't be sure what role she will be playing.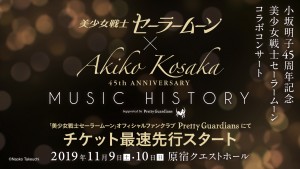 With this event only taking place on a single day it may prove more difficult to get tickets than other musicals. Do any of you hope to be able to make it to this concert? I'm certainly hoping a CD or video release will be made available for fans who aren't likely to attend.
Source: Sailor Moon official site Original Story with an Update.