The two latest episode of Sailor Moon Sailor Stars have been added to Hulu and Neon Alley. This week with episodes 194 and 195 we learn a lot more about Sailor Galaxia as we get pretty much all of the anime's time with Princess Kakyuu. It's a bad week for Seiya's relationships as Usagi starts to come to terms with Mamoru's absence. Also to note there are no more monsters of the week for the rest of the series. The last Phage was in episode 192!
Episode 194, Crusade for the Galaxy: Legend of the Sailor Wars, gives us a ton of back story. Princess Kakyuu is here and she seems to be the one with all the answers, and is willing to give us just a few of them. We get a description of the Sailor Wars. Some great Sailor Guardian sealed Chaos inside herself and became totally evil. That's Sailor Galaxia. She's treating Star Seeds like Pokémon and she won't stop until she's caught 'em all. Usagi is missing Mamoru quite a bit and calls him and … his answering machine picks up. Did Mamoru keep his massive apartment in downtown Tokyo while he went to study in the United States where a physical answering machine is located or has he just left his phone line with voice mail set up? Did he pay for all of this with his part time job at the resort he showed up for once a year ago? Who exactly is continuing to pay these bills while he's not even available to return phone calls and mail to his girlfriend? Seiya meanwhile gets a busy signal while calling Usagi who is trying to call her boyfriend. Oh boy, that's a symbolic busy signal! Seiya then mistakes Kakyuu for Usagi. Tell me about it. There are a bunch of jokes about keeping Usagi safe in this episode. Fair enough! She's the princess and that's kind of what these people need to be doing. Sailor Tin Nyanko shows up at the school, masquerading as student Nyanko Suzu. Once again no monster as Sailor Tin Nyanko attacks Usagi, who tries to take her on alone. The fight is interrupted by a red rose which is tossed into the fray. Wow! WTF? Chills. The rose was tossed by… Seiya. Damn. A fight ensues and Sailor Moon half heals Sailor Tin Nyanko with Silver Moon Crystal Power Kiss. We'll see how that goes later. Usagi breaks down crying at this point with the rose reminding her of Mamoru. Seiya asks if he's not good enough for her. It's not looking great for Seiya.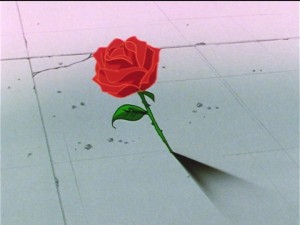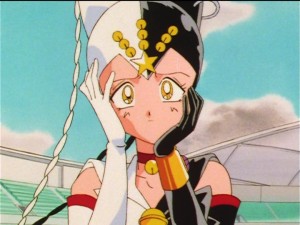 Episode 195, Princess Kakyu Perishes: Advent of Galaxia, is sort of a double spoiler title. It's just doubly terrible. Anyway. The Three Lights are doing one last concert! Why? They found their Princess! Well now they are looking for the Light of Hope, which apparently is the thing that can stop Galaxia. Why just do one concert to call the Light of Hope? Either they're done and don't need to sing anymore or they aren't and it should just be status quo. Whatever. It's their last concert. More importantly, Mamoru is totally off the grid. Usagi admits to Rei that he hasn't actually responded to any of her letters. When Ami looks into it he never arrived in America. He's not in his old apartment, which still has an active phone line and perhaps an answering machine, so where is he? How is he paying his bills? So Mamoru is not in US but we saw him and the plane with that light and the … oh boy let's think about something else. So concert. Sailor Tin Nyanko attacks the concert and she's totally messed up. She was half healed with the Silver Moon Crystal Power Kiss "attack" last episode so she's sort of like Two Face only without the coin. This is sort of tragic. The Animamates aren't evil at all. They are being controlled. Sailor Moon has the power to heal them but has failed to do so at every attempt. Tragic. Lots of other people are at the fight like Sailor Uranus and Neptune. Oh wait of course no Sailor Saturn. Whatever. Galaxia shows up and she's collecting all the Star Seeds. She takes Sailor Tin Nyanko and then Princess Kakyuu tries to hold her off while the Starlights escape. Princess Kakyuu has her Star Seed taken. Wow that was kind of quick. I kind of thought maybe she'd transform into a Sailor Guardian and maybe have some kind of fireball attack but she doesn't really do much. Oh well moving on. As Kakyuu is dying Sailor Chibi Chibi Moon takes her hand and with her last breath says that Princess Kakyuu feels the Light of Hope. Whatever that is! I guess this means Princess Kakyuu isn't Chibi Chibi like I thought!
Support this site by buying the first two seasons of Sailor Moon on DVD and Blu-Ray using the links below.