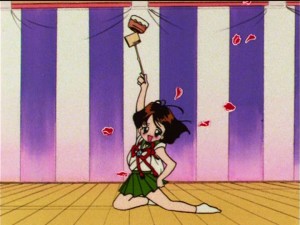 The two latest episodes of Sailor Moon S are now available to stream on Hulu and Neon Alley. Now that Chibiusa has arrived the series takes a bit of a different direction, mixing episodes focusing on her and episodes focusing on other characters. First up we have an all Chibiusa episode and then we look at Makoto who is training to improve herself which the other girls use as an excuse to have a little vacation.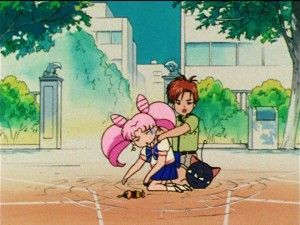 Episode 104, Making New Friends: Chibi Moon's Adventure, gives us a bit of an explanation as to why Chibiusa is back. In the manga she returns immediately after leaving but in the anime there was a bit of a gap. Chibiusa has a letter from her mother, Neo Queen Serenity, which is terribly written without any Kanji. We see Luna P briefly in this episode for one of the last times. This episode is full of a lot of Japanese references that I was completely confused by when I first saw it. Chibiusa is trying to make friends and in doing so has an odd confrontation with a boy at the park. He becomes somewhat verbally and then physically abusive to her before taking his pants off and flashing her. This bizarre encounter is a reference to another anime Crayon Shin-Chan as the young boy Shinnosuke shares a name and voice actor with Shin Chan. The boy does not physically resemble Crayon Shin-Chan but he does have a Shin-Chan toy. Finally Chibiusa meets and befriends Tamasaburou, a young boy who impresses her with a tea ceremony. Throughout this Usagi and Chibiusa grieve each other by trying to break their perfect sitting position, which seems to be important at a tea ceremony. Tamasaburou is targeted by the enemy. Chibiusa comes to the rescue and we actually see her transform, though Chibiusa does not have an actual transformation sequence in this season apart from what we see in the Sailor Moon S movie. Chibiusa isn't the only one to transform! At the end of the episode Chibiusa is shocked to see Sailor Tamasaburou, a cross dressing Tamasaburou. It seems a bit odd that so many characters, including Haruka, seem put off by this. Cross dressing is nothing new to this season. Perhaps it's simply the fact that he's dressing as a Sailor Guardian that is off putting. Tamasaburou is most definitely a male in this uncut subtitled version of the episode despite having been portrayed as female in the Cloverway dub back in the day.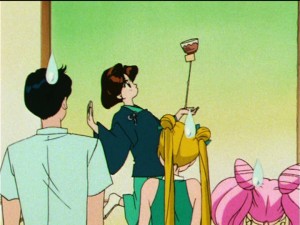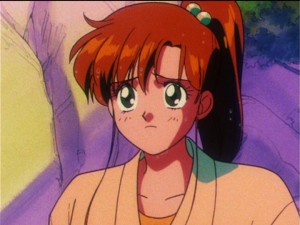 Episode 105, I Want Power: Mako Lost in Doubt, is a Sailor Jupiter episode which reminds us that even though Chibiusa is going to be a big part of the series from now on we can still spend some time focusing on other characters. Makoto feels bad about a fight with a monster which is not tied to a specific episode and decides to go train! The rest of the girls are happy to come along to crash the party and generally sit around and relax. Yes indeed, this is another swimsuit episode as I know at least one of our readers is a big fan of. This episode also shows us Mamoru's part time job at the resort they spend time at. Mamoru lives alone and is a full time student so it's not really clear where he gets enough money for his lavish lifestyle but this part time job, which his girlfriend didn't even know about, seems to be part of that answer. He's seen rushing around clearing a bunch of plates likely as some sort of bus boy. He's never shown having this job again.
Support the site by buying Viz's dubbed and subbed episodes of Sailor Moon on DVD or Blu-Ray using the links below:

Source: WikiMoon