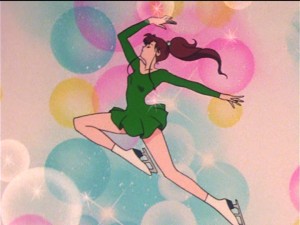 The latest episodes of the original Sailor Moon anime, in Japanese with English subtitles by Viz, have been added to Hulu and Neon Alley this morning. As with every Monday two new episodes are added. This week we have episodes 39 and 40 which showcase just how terrible Mamoru is at being a bad guy. The Dark Kingdom is doing a pretty terrible job with this guy.
First up we have episode 39, Paired With a Monster: Mako, the Ice Skating Queen, and it's all about skating. It's episode 39 but it feel like episode 390 by the way they're just kind of going through some winter sports. Last week was skiing. This week is skating! Supposedly back in the day skating was really popular on the Moon. So where did the ice come from? Currently the Moon is a barren wasteland, and freezing cold as there's virtually no atmosphere, so water could only ever exist as ice, though only in shaded areas. Silver Millennium is said to be located in the Sea of Tranquility which gets a decent amount of sun during it's days which last 14 Earth days. Images of the Moon show flowing fountains at times and ice skating rinks in this episode where the people are wearing ear muff to keep warm. Also the Moon has a very small axial tilt meaning it would have virtually no seasons. So Usagi is a terrible skater, even though Princess Serenity was apparently really great at it. Makoto on the other hand is great right out of the gate and so she's targeted by the enemy because that's right this week they're looking for really good skaters to find Sailor Moon! It's not until she's properly transformed that Sailor Moon actually starts to skate well and then Tuxedo Mask joins her. But isn't he a bad guy? Oh yeah I guess Tuxedo Mask is kind of mad at Kunzite so he joins Sailor Moon in this episode. Beryl needs to keep a leash on this guy. It's total nonsense. A little arguing amongst bad guys is one thing but teaming up with your top enemy is not a good idea. Also if you're a fan of skating and hockey you should be sure to check out the Keeping Karlsson podcast for all the best hockey pool strategies.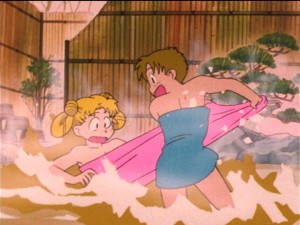 Episode 40, The Legendary Lake Yokai: The Bond of Usagi's Family, is a hot springs episode! But it's not quite as saucy as you might think. Usagi and her family are going on a little trip to the hot springs, which based on what I've seen in anime seems to be a huge deal in Japan. We get some good Shingo/Usagi shipping action as they fight and he steals her towel. Mamoru is an absolutely terrible bad guy in this episode as he just kind of hangs around looking at the lake because Queen Beryl made a mistake in sending him. The lake is home to a lake monster which actually has nothing to do with the Dark Kingdom. Aside from Sakiko we haven't really seen any monsters that weren't directly created by the Dark Kingdom before. Turns out the lake monster is a jealous girlfriend that's mad that a boy she was in love with hooked up with a girl from space. This story strongly parallels the Beryl/Endymion/Serenity love triangle. Beryl is in love with Endymion and he falls in love with Serenity who is from the Moon, leaving her. But then instead of turning into a lake monster Beryl took her army and killed everyone on the Moon. We all deal with our jealousies in our own ways. I'm not the only one to see this similarity as the lake monster mistakes Usagi for the woman stealing hussie from her day. Sailor Moon heals the monster releasing the jealous girl from her curse. The rest of the girls eventually show up for some hot springs fun which will make some of our readers happy, like that guy that keeps asking if they're going to do a beach episode of Sailor Moon Crystal. You know who you are!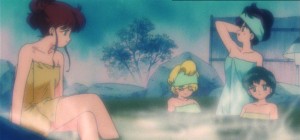 Speaking of sexy bodies at the hot spring, check out Kenji Papa in this episode! He's looking fit. What does he do between this point and when they go to the VR place in Sailor Moon R where he's got a gut?