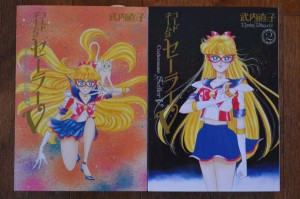 Following the last release of the Sailor Moon Complete Edition manga we now have all of Codename Sailor V released in Japan in this same format. The Complete Edition of the Sailor Moon, and now Sailor V, manga are high quality collector's editions of the manga with larger, brighter pages and which include all colour pages previously only seen in pages of Nakayoshi and Run Run. While Sailor Moon appeared in Nakayoshi the Codename Sailor V manga was often serialized in another magazine, Run Run. The Codename Sailor V manga was also written by Naoko Takeuchi and it predates Sailor Moon, though it continued to be written alongside it and it's final story was actually written after Sailor Moon's run had been completed. It tells the story of Minako when she was Sailor V in the days before she joined Sailor Moon as Sailor Venus. Chronologically the entire story takes place prior to the first issue of the Sailor Moon manga.
This complete edition was released on Thursday May 29th. Unlike the Sailor Moon releases of this manga there is no new art for the covers but instead the art of the original books for Codename Sailor V volumes 1 and 2 are used for these. As you can see by the comparison to the original manga releases these ones are a bit larger and feature a much larger image of the volume 2 cover art. These books are Japanese only. You can order them from Amazon Japan (vol. 1, vol. 2) or CD Japan (vol. 1, vol. 2).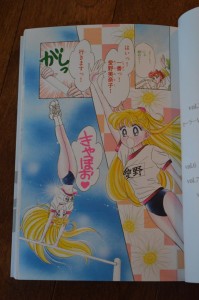 Keep reading to see more of the colour pages included in this release.