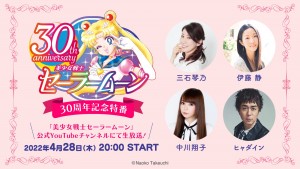 The Sailor Moon 30th Anniversary is underway and to celebrate there will be a special live event on April 28th which will be broadcast on the official Sailor Moon YouTube channel. This event will feature voice actors from Sailor Moon Crystal including Kotono Mitsuishi, the voice of Sailor Moon, Shizuka Ito, the voice of Sailor Venus, Shoko Nakagawa, the voice of Diana, and Hyadain, a musician who previously did the music on the Sailor Moon The Super Live musical. You can watch the event on the 28th at 10pm Japan Standard Time, 7am Easter Time, using the embedded link below. Not much to see there right now but there is a convenient countdown showing when the event will start. The official site claims anyone can watch it for free which suggests it should be available to watch worldwide.
What will be discussed? It could be almost anything! It seems likely something will be announced. Evidently the best thing to get news about would be a continuation to Sailor Moon Crystal as a Stars story arc. We don't really know what form this could take. The theatrical films Sailor Moon Eternal Part 1 and 2 performed quite poorly at the box office. It's hard to say if they remained profitable with home video and streaming sales because movie accounting is usually deceptive and intentionally obscure. It's also quite difficult to account for factors such as increased sales for Sailor Moon merchandise which is difficult to tie directly to any streaming series or movies. I certainly hope it's something Sailor Moon Crystal related but I have learned not to get my hopes up too much.
The choice of hosts for the event is a bit curious. Kotono Mitsuishi is usually included in these things so that's not odd. Shizuka Ito being included doesn't make much more sense than any other Sailor Guardian if we're talking about a Stars story arc. A Sailor Moon Crystal style Sailor V series seems unlikely so I'm not sure what that connection could be. Shoko Nakagawa is probably not there simply because of her work as the voice of Diana. She's a popular media personality who hosts the popular Pokémon Sunday. Hyadain's involvement could be related to many things. As he did the music for the Pretty Guardian Sailor Moon The Super Live musical he may simply be there to discuss the upcoming performance of the musical at the Japan Parade in New York which is coming up on May 14th. He may also be there to discuss his involvement in an upcoming musical or that he is contributing music to new episodes of Sailor Moon Crystal.
What do you think will be announced at this event? You're allowed to say nothing! It might be nothing…