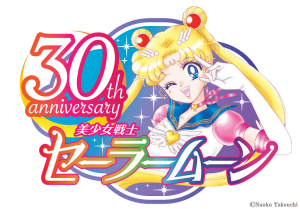 As we posted about a couple of weeks ago, the Sailor Moon manga is 30 years old, as it was first published on December 28th 1991. The Sailor Moon anime will be 30 years old this year with the first episode airing March 7th 1992. As the Sailor Moon official site and franchise in general made a big deal about the 20th and 25th anniversaries it was only a matter of time until we started the five year long celebration of the 30th anniversary, and that time is now! The 30th Anniversary Logo is here! It's pretty. Full of colours. It features Eternal Sailor Moon!
What big announcement came with this new logo? New Sailor Moon Crystal? A new musical? Merchandise that people will buy? Not really but they released a "movie" and by movie I mean a slideshow showing merchandise announcements for five minutes which you can watch embedded above. Most of this isn't that special it just seems like they saved up a few weeks worth of normal stuff they post to the official site and then just dropped them all at once on the day they released the new logo and some intern made this little video about it. I think the only one of these things which is worth even mentioning is that a Sailor Moon museum will be opening for a short time. There aren't really any details but it's likely similar to what took place in 2016. Come look at some interesting Sailor Moon things and please buy this exclusive merchandise!
Are you excited about anything that was announced as part of this 30th Anniversary?
Possibly Related Posts