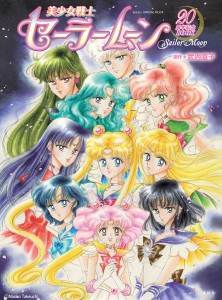 A new Sailor Moon art book is being released in Japan in celebration of the ongoing 20th Anniversary. This 160 page book will cover nearly 25 years of Sailor Moon, which was first released as a manga in December of 1991. The 20th Anniversary celebration has been going on for nearly five years now and there seems to be no indication that it is losing steam nearing what should be a more iconic 25th year anniversary. The book is set to be released on October 20th though it will be available early for fans attending showings of the terribly named Sailor Moon Amour Eternal musical which will begin on October 15th. Fans who don't plan to be in Japan next week can order a copy through online retailers such as Amazon Japan and CD Japan for 2480 yen, about $24 US. Keep in mind that books are heavy and expensive to ship!
Details about the book can be found on the Official Sailor Moon site. It seems like it will cover the Sailor Moon exhibit which was held in Roppongi Hills this year. This could be a nice alternative for fans that couldn't afford a trip to Japan to see the exhibit. It is also mentioned that there will be many interviews and that it will generally cover Sailor Moon, which I assume means it will touch on the various incarnations of Sailor Moon throughout the years.
The cover features a new drawing by Naoko Takeuchi, the creator of Sailor Moon. The book is being refered to as a Mook through the URL on the official site (20thmook160923.php) and the embedded image (20thh_mookkai.jpg). This isn't a term I was familiar with but it seems to be a portmanteau between magazine and book. These are common in the fashion magazine industry and represent magazines which are meant to be sold over longer periods of time than usual weekly or monthly publications. I've got an order in for the book and will strive to have a review up on the site at some point in the future.
Possibly Related Posts