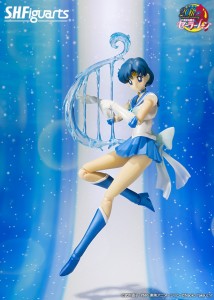 The Super Sailor Mercury figure was revealed last July at the Wonder Festival 2015 Summer. Now over a year later we have some details and a release date. The figure will come with a harp accessory which Sailor Mercury uses during her Mercury Aqua Rhapsody attack. It will be released in April 2017.
Since a standard Sailor Mercury S. H. Figuarts figure is already out the appeal of this figure seems a bit questionable. This line of figures is of a great quality and I've happily purchased most of them but I just can't see myself double dipping and getting the "Super" variants of every character for another 4860 yen, about $47, a piece. Since a Sailor Moon Crystal Sailor Moon is coming in January it seems a bit much to buy three or more versions of each character. Will we be seeing Super Sailor Mars, Jupiter, Venus and the rest soon? I thought we would learn about them last summer but at this rate who knows what they're doing.
It should be noted that this figure looks a bit different than the prototype we saw in July 2015 alongside the now released S. H. Figuarts Super Sailor Moon. This is normal as prototypes are always subject to change as release gets closer.
Take out a line of credit and buy some of these S. H. Figuarts figures using the link below.
Possibly Related Posts