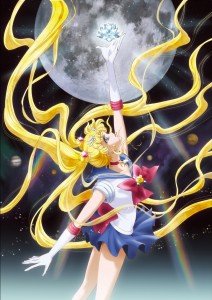 We've finally got a look at what Sailor Moon will be looking like in the new anime series, titled Pretty Guardian Sailor Moon Crystal, which is confirmed to begin airing this coming July. Along with this artwork, shown above, we have our first look at the logo for Sailor Moon Crystal as well as a synopsis of the story. The word Crystal in the title is a reference to the Silver Crystal, the object of immense power which drives much of the plot of the Dark Kingdom story arc.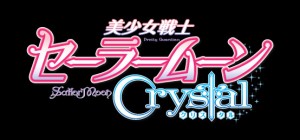 Earlier today on the official Sailor Moon site a cryptic message went up stating only "8 days. Coming soon.". Something big is coming, but have we already seen it? In the files hosted on the official site was this one (mirror) which was not linked on the main page. It featured the logo for the new series in which we see the title Pretty Guardian Sailor Moon Crystal, artwork of Sailor Moon and her Silver Crystal as well as a brief synopsis. This synopsis, as translated by Anime News Network, is included below:
Usagi Tsukino is a second-year middle school girl who is a little clumsy and a crybaby, but she is full of energy. One day, she meets Luna, a black cat with a crescent moon on her forehead, and she transforms into Sailor Moon, a sailor-uniformed pretty guardian of love and justice! As a chosen guardian of justice, Usagi seems to have a mission to find the Illusionary Silver Crystal with the other guardians and to protect the princess.
Meanwhile, the queen of the Dark Kingdom, Queen Beryl, also sends minions to the town where Usagi lives to obtain the Illusionary Silver Crystal, which has immense power. This causes strange events to unfold….

Can Sailor Moon really find the Illusionary Silver Crystal with the other Sailor guardians, and protect the princess…!?
Based on this we confirm once again that the anime series will be a retelling of the Dark Kingdom story arc where Sailor Moon fights Queen Beryl and searches for the Silver Crystal and the Moon Princess. From the logo we can see a sword which is likely the Holy Blade, also called the Sword of the Silver Crystal, a sword which is wielded by Sailor Venus in the Sailor Moon manga.
The rest of the image includes information we already know, mostly about cast announcements that have already been made. As always we will continue to bring you all new information about this new anime, Sailor Moon Crystal, as it becomes available.