This is it! Episode 200 of Sailor Moon Sailor Stars is now available on Hulu and Neon Alley. This is the last episode of the series, making the entire 200 episode run of the original Sailor Moon anime available to watch in Japanese with English subtitles for free… if you live in the right country. There's no telling how long these episodes will remain available to free Hulu users as older episodes of some shows will often be available only to those with paid Hulu Plus subscriptions. This episode is rated TV-MA, no doubt because of the lengthy nude scene which isn't terribly high on detail. I first watched the second half of this episode before seeing any of Sailor Stars at my local anime club. It was unsubtitled and I really didn't know what was going on, but thanks to VKLL I later saw the rest of the series and figured out what was what.
Episode 200, Usagi's Love: The Moonlight Illuminates the Galaxy, wraps everything up quite well. Chibi Chibi became a light and then turns into a Star Seed and then into a sword. A bit crazy but the idea is basically that Chibi Chibi is the light of hope, which is not at all what she is in the manga. She is Galaxia's Star Seed, ejected out of her when Chaos began to take over her body. How does a Star Seed continue to have autonomy outside of the host? The Silver Crystal never seemed to have a mind of its own, but Chibi Chibi is sort of like the good half of Galaxia, removing itself from the body which is evil. Usagi transforms into Princess Serenity with wings, which is a very cool form I've always appreciated. Princess Serenity, ever kind and forgiving, does not want to use the sword to attack Galaxia. This is messed up! Galaxia's Star Seed is begging Usagi to kill Galaxia and she's refusing. Can you imagine if a part of you left your body and gained some sort of agency and then tried to kill you? Galaxia is like Devon Sawa in Idle Hands! Galaxia lost her Star Seed and now it's time for Sailor Moon to lose her clothes. This is where the TV-MA rating comes in. Usagi starts flying around totally naked. What are they going to do, cancel the show? This is the last episode! There's a bit of sparring and finally the light of the Silver Crystal reaches good girl Galaxia who is somewhere inside evil Galaxia. The good Galaxia inside evil Galaxia's brain takes Sailor Moon's hand just as real Galaxia does and poof, she's healed! We assume at this point that Galaxia's true Star Seed is somehow reincorporated into Galaxia, merging their memories. Does Chibi Chibi die? Does the Silver Crystal let Galaxia be good without a Star Seed while Chibi Chibi still exists, as she's seen flying around later? Speaking of Star Seeds, all those Star Seeds Galaxia gathered are released like Pokémon let back into the wild. This is good news for all of Usagi's up to now dead friends, including Mamoru who returns as Endymion because that is his coolest form. Chibiusa? Not around. Makes me wonder why Galaxia didn't go to the future to get her and Diana's Star Seeds. Perhaps she should have captured a bunch of Sailor Guardians and bred in a sort of Star Seed farm to keep making more!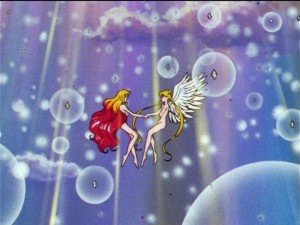 Everyone's alive and it's time for the Sailor Starlights to head back home. Seiya says his farewells to Usagi who is still ignorant of how he really feels about her. Luna shows some serious lust for Yaten, which doesn't make Artemis very happy. We then see Hotaru and Setsuna, happily chilling with their murderers Haruka and Michiru. I guess that was all part of the plan? Hotaru must be getting used to those two trying to kill her at this point. Usagi and Mamoru share a moment alone in front of the moon, exchange pleasantries and kiss. With a series full of constant interruptions to their romance, they are at last at peace and can be together. In an homage to the famous quote from the first season, Usagi states that she's 16 years old and a bit of a klutz and a crybaby, but that she's actually a Guardian of love and justice, Sailor Moon. When Usagi used to say these words it was more like "Oh isn't this weird but I'm a superhero" but here her tone is totally different. It's like she's saying "I look unsuspecting and I'm a bit emotional, but I'm a badass superhero and I've got this shit covered.". What a perfect line to bookend the series and demonstrate just how much she's grown not just in power but as a character who uses love and kindness over her sheer power. These final end credits are accompanied by the original opening theme, Moonlight Densetsu, which was not used elsewhere in the season, as well as a lovely montage of images.
The end.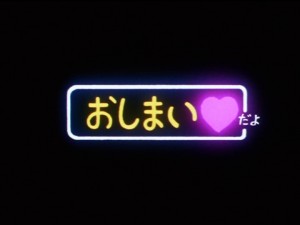 For those who've seen the series before, I hope you enjoyed revisiting it. For those who are seeing it for the first time, I hope you loved it. The manga is its own thing in many ways, so check that out if you haven't. Hopefully Sailor Moon Crystal makes it all the way to the end and we can see a totally different ending to the series and a very different origin for Chibi Chibi.
Support this site by buying the first two seasons of Sailor Moon on DVD and Blu-Ray using the links below.