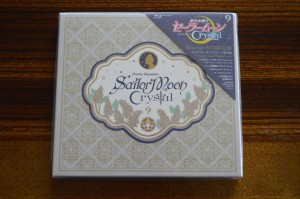 I'm a little late with this review but the latest volume of Sailor Moon Crystal, volume 9, was released on Blu-Ray on June 10th. Like with other releases this only includes two episodes, in this case Act 17 and 18. These stories, part of the Black Moon story arc, focus on Sailor Jupiter and Sailor Venus. The cover for this release features all of the Sailor Guardians together in their civilian school uniforms. The volume 10 box art will feature the often neglected Sailor Pluto. You can buy volume 9 from Amazon Japan for 5194 yen, about $42 US, plus shipping. Pre-orders for volume 10 will be shipped out tomorrow.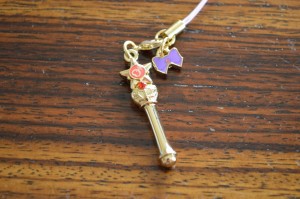 The charm included with this release is Sailor Mars's Star Power Stick. We will likely be seeing Sailor Jupiter and Venus's Star Power Sticks as the next two charms.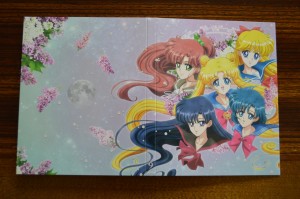 The contents of the disk are pretty standard. Two episodes are included. Act 17, Secret – Sailor Jupiter and Act 18 – Invasion – Sailor Venus. Video quality is great, as always. There are animation changes from the original streaming versions which are mostly minor and cosmetic. Crystal Comparisons is a great site to check out to compare the two versions. A frame which had Chibiusa incorrectly wearing a short sleeved blue uniform has been corrected to have her with the white uniform she wears in the rest of the scene. A scene in Act 17 had Usagi using the Moon Stick instead of the Cutie Moon Rod to use Moon Princess Halation. This has not been corrected for the Blu-Ray version.
Commentary are included as always. On these episodes we have Munehisa Sakai, the director for the series, as well as Ami Koshimizu, the voice of Sailor Jupiter, and Shizuka Ito, the voice of Sailor Venus. As always I do not speak Japanese so I can't really comment on the quality of the commentary itself.
Once again a 20 page full colour special booklet is included. This book includes episode summaries and art for the included episodes 17 and 18. The first interview is with Revo, the composer for Sailor Moon Crystal's opening theme Moon Pride. The other interview is with Ryo Hirohashi, the voice of Luna, and Yohei Obayashi, the voice of Artemis. Character art included shows Luna, Calaveras, Petz, Asanuma and a bunch of items.
It's hard to recommend buying this. Episodes are still available to stream for free online. This is a Japanese only release with no subtitles. It's probably worth the wait to get the English version which Viz will be released at some undetermined time in the future. But you don't need me to tell you whether or not to buy something.
Keep reading for more images from this set including photos of all pages of the included special book.