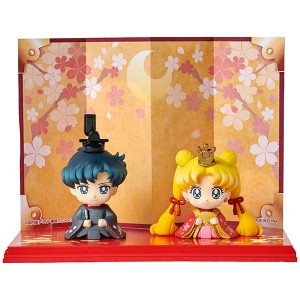 Four new Sailor Moon Petit Chara figures have been announced on the official Sailor Moon site. These ones are Hinamatsuri themed, showing Usagi, Mamoru, Haruka and Michiru in traditional Japanese dress. What, you may ask, is Hinamatsuri? Some of you may already be familiar with this but I certainly wasn't before seeing these. Hinamatsuri, also known as Doll's Day or Girl's Day, is a holiday in Japan celebrated on March 3rd of each year. On this day ornamental dolls, which these figures are meant to resemble, are displayed.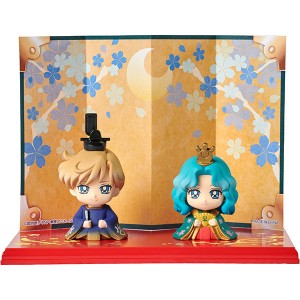 There are two sets of figures available. One is on Mamoru and Usagi and the other is of Haruka and Michiru. As these dolls traditionally show a wedding or an Emperor and Empress it seems fitting to use Sailor Moon's two most iconic couples for these sets. The figures are available for pre-order on certain online sites now and will be released online and in stores in Japan in January 2019. Though prices vary slightly each set of two figures will sell for roughly 3000 yen, about $26.50.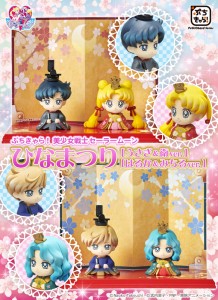 Do you plan on picking up these sets? There are a lot of photos of the figures so keep reading for more images.