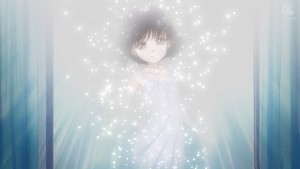 The latest episode of Sailor Moon Crystal aired Japanese TV Monday June 13th 11pm. Immediately afterwards, starting at 10:30am Eastern Time, the show became available to stream first on Crunchyroll and then on Neon Alley and Hulu. Act 36 is the first of a three part finale for the Infinity arc, as this was once a single long chapter of the manga. The episode is all about Hotaru freeing herself from Mistress 9 and the consequences of that as well as a power up for Sailor Chibi Moon.
| | |
| --- | --- |
| | |
We get an idea of the Death Busters' end game here. Pharaoh 90 wants to vesselize the planet. How odd! Up until now we've only seen the vesselization of living being but he wants to do it to the planet. What will this look like? Literally a comical smiley face on planet earth. No this isn't a bad photoshop but rather a screenshot from the episode! Looks like Phanto from Super Mario Bros. 2/Doki Doki Panic to me! They seek to make the Earth a second Tau Star System with this. Wait a minute how do you make a planet a star system which is shown as a galaxy? I don't really understand the scope of the astronomical references of this arc.
| | |
| --- | --- |
| | |
Mistress 9 is some weird looking in this episode. What's with the elf ears? This could be a reflection of the monster inside. She does have a more monstrous looking face as time goes on in the manga. I think, however, that those ears are inspired but a misinterpretation of some art in the manga. Only one panel shows Mistress 9 with pointy ears and I don't think it was meant to be elf ears at all. She has all sorts of things sticking out of her in this one image and the sharp things near her ears just happen to look like pointy ears. She has normal small round ears in all other panels in the manga. She's also got bulging Total Recall dying on the surface of Mars eyes.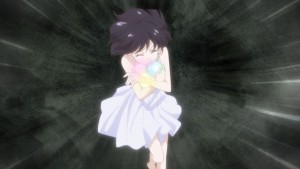 Mistress 9 is chowing down on hostes or souls. She eats Sailor Mercury, Mars, Jupiter and Venus's but this doesn't last long. Hotaru protects them, along with Chibiusa's soul and Crystal, and decides it's time to GTFO. She leaves Mistress 9's body, which is actually her body, and is able to take those souls with her. Great news? Actually it means she's going to have to die.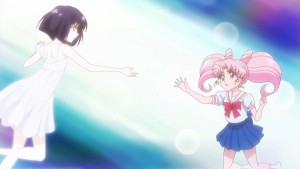 Hotaru uses her last bit of life to bring Chibiusa's soul back to her, along with her Crystal. What follows is a tearful and heart wrenching farewell. She mentions that she feels like her encounter with Chibiusa was destiny, pointing out that this seems odd because they're both girls. The obvious interpretation of this is that destiny is usually something that would connect lovers. In Japan there is an idea, shared amongst other Asian cultures, that a red thread connects lovers together through fate or destiny. Why does Hotaru think this is odd? Because they aren't lovers, or because their relationship is not heterosexual and therefore not fitting with her expectation? This story arc, and the show as a whole, has precedent dealing with same sex relationships. Ultimately the romantic aspects of Hotaru and Chibiusa's relationship are subject to interpretation. There's nothing overt about this relationship, but this is one of the many insinuations that it has romantic undertones. In case you were wondering, of course I'm shipping these two!
Mamoru encourages Chibiusa to go out in fight. You can see this is hard for him, but he pushes her for it anyway. Chibiusa is totally bad ass here. She digs deep and finds the will to fight to save the world. A lot of fans may not have liked her portrayal in the original anime but it's hard not to like Chibiusa now. She seems to have immediately increased in power and she jumps out the window and flies to where she's going. We previously saw that Chibiusa appeared to be the only member of the team that was not able to fly.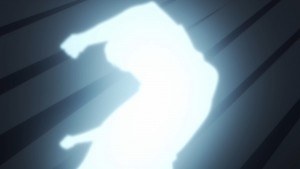 I was really hoping that this episode would have an amazing transformation sequence for Tuxedo Mask. In the manga we see him transform and get a look at his nakedness. Sadly this doesn't occur here. I was hoping for a full on elaborate stock footage calibre transformation for Tuxedo Mask. Instead we see him glow and quickly transform behind his cape. I blame the patriarchy.
When Hotaru left Mistress 9's body, it meant that Mistress 9 was also no longer bound to that body. The Daimon inside escaped, destroying the body, which killed Hotaru. This Daimon kind of looks like Ryuk from Death Note. I don't know much about this series, and only ever saw the terrible live action movie adaptation, but this guy from that show immediately came to mind when I saw it.
What's the gang to do? Sailor Chibi Moon does an effective Pink Sugar Heart Attack for a change but that isn't enough. We need Super Sailor Moon … but wait! Chibiusa gets a grail too and she becomes Super Sailor Chibi Moon. Unfortunately we don't get a full transformation sequence for Super Sailor Chibi Moon. Oh well.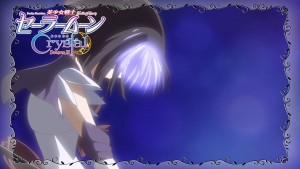 Next time is Act 37, Infinity 11 – Infinite – Judge. Sailor Saturn. That's all. Who cares what else happens in this episode because it's Sailor Saturn! We've been waiting for this for like… ever! Finally we will start seeing a proper representation of Sailor Saturn in an animated series after she got totally shafted in the original Sailor Moon anime. I can't wait!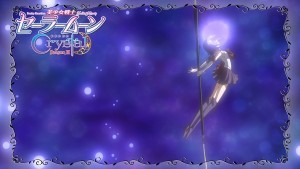 Keep reading for more screenshots from this episode and the preview for Act 37.