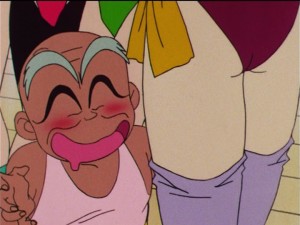 The two latest episodes of Sailor Moon R are now available on Hulu and Neon Alley. This week we get episode 63 and 64 which has Sailor Mars getting a new attack and a little backstory for the mysterious Chibiusa.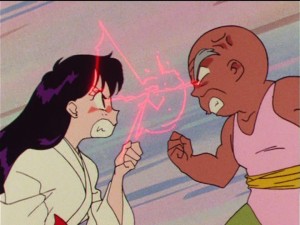 Episode 63, Women Must Be Strong and Beautiful: Rei's New Special Technique, is all about Rei and her lecherous grandfather. Rei's grandpa is having martial arts classes at the Hikawa Shrine with Yuuichirou's help. This has Rei all upset. The backstory of this is of course that Rei's grandfather spends all of his time chasing young girls, including those he's trying to attract to this class. Koan, along with the monster of the week, comes along to create further friction between Rei and her grandfather by suggesting the class focus more on combat. In the ensuing fight Sailor Mars uses her Burning Mandala attack for the first time.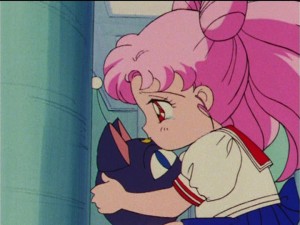 Episode 64, In Search of the Silver Crystal: Chibi-Usa's Secret, gives us a bit more backstory on Chibiusa. Due to the Tsukino family being a bunch of dead beats, Chibiusa is stranded at school alone after all of the other kids are picked up. The ensuing thunder and lighting scares her greatly. Chibiusa uses Luna P to communicate with a mysterious figure from the future, who we will learn more about later. Unlike many not so well kept secrets of the show Pu's true identity is not that obvious to those who don't know where the story will lead. She gets sick of the 20th century and tries to use the Key to Space and time to go back to the future. This doesn't work for whatever reason, possibly because it's used indoors and the beam bounces but this is never clearly explained. This causes gravity to go wonky in the building. As luck would have it the Sailor Guardians happen to be in the same building and experience this weird anomaly as well. The girls are floating around and Rei ends up with her head up Minako's skirt! Hilarity ensues.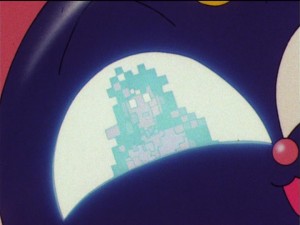 Support the site by downloading these episodes on Amazon Instant or buying Viz's DVD and Blu-Ray releases using the links below.