This week on Hulu and Neon Alley we get Sailor Moon SuperS episodes 136 and 137. These episodes are full of nudity and shipping. Who do you like? Mamoru is paired with Usagi, Ami, Rei and Rei's Grandfather in this episode! Then Diana is all over Fish Eye, but it isn't reciprocated.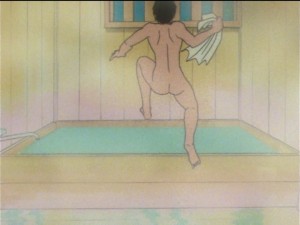 Episode 136, Protect Mamoru: Ninja Usagi's Jealousy, ships everyone with everyone else. The gang is hanging out at Mamoru's place, which apparently is a thing they do. Usagi is jealous because Mamoru and Ami are doing math homework together. While breaking them up a fire extinguisher is set off completely destroying the place. Too bad Mamoru has important work to finish and he needs to concentrate! Rei offers to let him stay at her shrine which naturally has Usagi jealous since Mamoru and Rei are obviously attracted to each other and never technically broke up as they were dating when all those pesky memories from the past went and interfered with their love for one another. As Mamoru moves in Rei's grandfather has quite an interest in him. Does anyone ship these two? Yuuichirou is instantly jealous, taking it out on Mamoru by super heating his bath. We see a naked Mamoru scene as Rei gets a glimpse of him in the tub. Usagi is dressed up as a ninja at this point, and confronts Rei about what happened. Rei blushes, clearly still interested in Mamoru! Meanwhile Rei's grandfather has the perfect thing for Yuuichirou. They go out cruising for ladies in the city! This ends up to be more of a series of street harassments than anything else. Ultimately Rei is targeted by Tiger's Eye and during the fight when Usagi calls for Mamoru he doesn't come. We get a great explanation for why he always shows up. He seems to have a 6th sense for knowing when Usagi needs him, but Diana insists he continue working rather than come to her aid!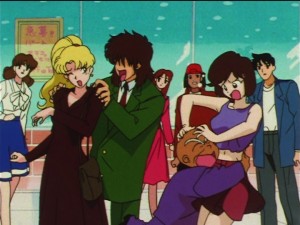 Note that a calendar in this episode once again shows the year to be 1995.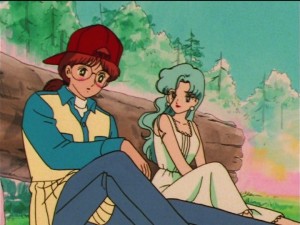 Episode 137, Forest of Illusion: A Beautiful Fairy's Invitation, is about a man with a fairy fetish! Chibiusa is reading a book about fairies and runs into the author, who clearly wants to meet and fall in love with a fairy. Enter Fish Eye! We haven't seen Fish Eye target any of the women in the past and now we know why. He's gay and only interested in men. In order to lure Kitakata he poses as a fairly, which has him dressing as a woman. His gender is a bit fluid throughout the series and mostly in this episode. When showering at one point his breasts are covered in soap bubbles as if something needed censoring, but Fish Eye is a man and we aren't usually covering up men's chests in this series. Diana is helplessly drawn to Fish Eye because he smells like fish! She suspects this must be a fish fairy. Unfortunately Kitakata learns that Fish Eye doesn't like flowers and so his perfect image of a fairy is ruined.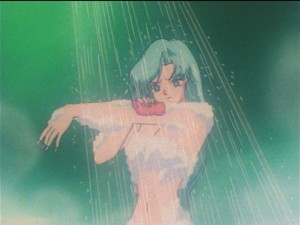 Support the site by buying the first two seasons of Sailor Moon on DVD and Blu-Ray using the links below.