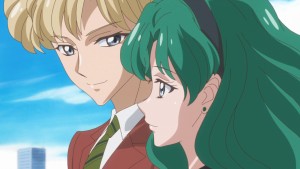 Sailor Moon Crystal is finally back! Act 27, Infinity 1 – Premonition – First Part, aired on Japanese TV April 4th at 11pm Japan Standard Time. Shortly after this, around 10:45am Eastern Time, the show was available to stream for free on Crunchyroll, Hulu and Neon Alley. It seems that the show was only available to Hulu Plus users at first but could be viewed right away with commercials on the Viz web site Neon Alley. Keep this in mind in the future if you for whatever reason don't like watching it on Crunchryroll.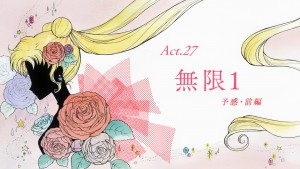 I guess we finally know what the episode title will be. Act 27 is split into two parts, aptly named "First Part" and "The 2nd Part". Yes the subtitles do indeed inconsistently spell out first but write 2nd with a number. Hulu calls the episode "Part 1″ but the subtitle for the title is consistently "First Part". As mentioned previously the season will have 13 episodes. Sailor Moon Crystal follows the later chapter break up of the manga which has the Infinity arc covering 12 manga chapters, meaning this is likely going to be the only episode which is split in two.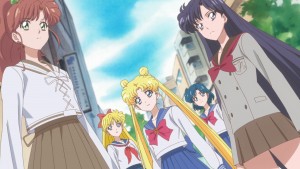 The first thing which strikes me about this episode is the change in animation. Like it or not, it's different. This seems like a totally different show. I personally think this new animation is fantastic as I'm going to appreciate anything that's novel at this point. Not only is the style different but I all around get a sense that there has been a significant improvement in the quality of the animation. Perhaps more time and money have gone into these episodes. We should be happy for the delay if it means getting something that looks this good. There is also a lot of funny animation, which we've seen off and on earlier in the series. I hope this kind of thing keeps up. As always the show continues to be a faithful adaptation of the manga, so no big change there.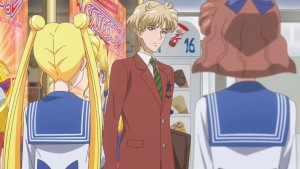 Act 27 starts the new Infinity story arc which is all about Sailor Uranus, Neptune, Saturn and the Death Busters. We see only a glimpse of Hotaru and Kaolinite this week, but we do see quite a bit of Haruka and Michiru. Haruka is such a fascinating character. She is described using male gender specific pronouns in the subtitles. This is a bit of a complicated issue. Haruka is female, but at this point in the manga all characters, including the reader, are meant to assume that she is male. She's not trans but is probably more accurately described as gender fluid. I have mentioned before that I don't speak Japanese, but my understanding is simply that gender specific pronouns aren't commonly used in the Japanese language. This leads to common situations in Japanese fiction, like anime and manga, where a character's identity is confused but the person can still be openly spoken of without it leading to confusion like it might in English when a gender specific pronoun like he or she would come up to clear things up. And so Haruka wears men's clothes and is fawned after by girls, including Usagi, Minako and Makoto who assume she is a man. Some of them of course will continue to be attracted to her when they learn she is a woman, which is just part of what makes this series great.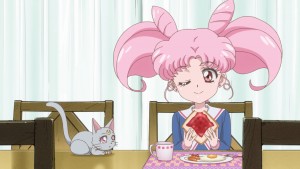 Diana returns! She came to the present with Chibiusa from the 30th century, something which occurs in the manga but does not happen in the original Sailor Moon anime until late in the next story arc. Diana has a red collar in the original anime but her collar is grey in Sailor Moon Crystal. I only noticed this watching this episode but her collar was grey in the last story arc as well. Chibiusa seems to have no problems letting Diana sit on the dining room table. This isn't something that bothers me much but I keep expecting my girlfriend to pop on to the screen and push her down.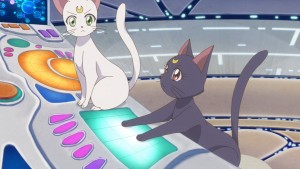 Speaking of cats, check out how much Luna and Artemis have changed. Their faces are shaped a lot differently that what we're used to. One of the many changes in character designs.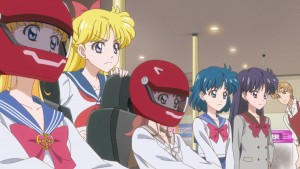 The gang play a fake video game called Battle Lap. Or is it Speed Racer? It says Speed Racer on the side of the machine but it is clearly referred to as Battle Lap in conversation, which is the name of the game in the manga. I don't know much about car racing but apparently in the Sailor Moon world being good at real car racing translates to being good at video game car racing! I am personally a terrible driver and I am also very bad at Mario Kart, so perhaps this is legit! Usagi mentions that she can't tell how fast she's going because of her helmet which Haruka seems to think is the sign of a good racer. I guess I will have to wear a helmet when I play Mario Kart from now on. This helmet peripheral doesn't actually seem to have any in game functionality, unless it beats you up when you virtually crash.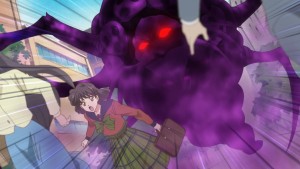 Fighting ensues! A Daimon comes out of a girl from Mugen Acamdemy, the school where all the scary stuff is going on, and this fight is much more than the few pages we get in the manga. This is probably why the chapter is split in two. We needed to reintroduce all characters and give everyone a full transformation sequence. These new transformation sequences look great, and are nearly identical to those from the original Sailor Moon anime.
We get some cool attacks. Sailor Venus uses her Wink Chain Sword which now features an actual sword! How cool is that? I mean she doesn't actually hit the enemy with her sword but there is a sword in there. You know like the one she used to kill Queen Beryl. Oh that's right…
Next week is Act 28, Infinity 1 – Premonition – The 2nd Part. No really, we're not calling it Infinity 2? How confusing. At least we will be able to easily follow the manga titles even though the Act numbers will change. The preview has a border around it so I can't be lazy and use these screenshots when the new episode comes out. Next week Usagi will disguise herself as a Mugen Academy student and try to sneak in. Looking forward to seeing if they draw all of Chibiusa's friends like small version of the men of the series. Kyuusuke looks like a tiny Mamoru but in this coming story we have a tiny version of Asanuma and Umino. Or is it Amano? I guess Naoko Takeuchi got lazy! More importantly we will see Sailor Uranus and Neptune for the first time. Keep an eye out for Act 28 on Monday April 11th some time around 10:45am Eastern Time on Crunchyroll, Neon Alley and Hulu.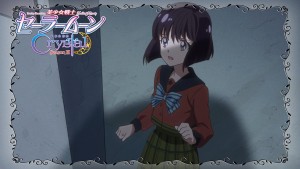 Keep reading for more screenshots from this episode and the next episode preview.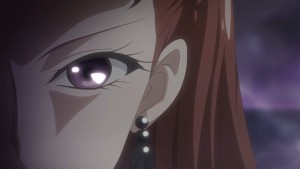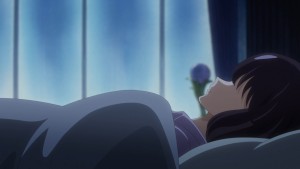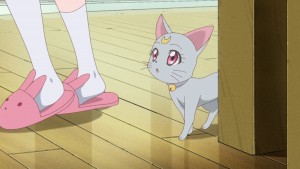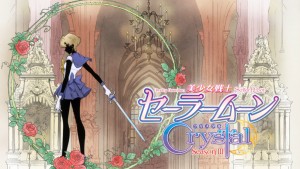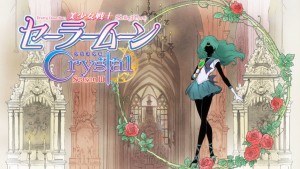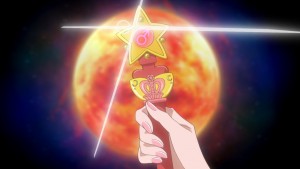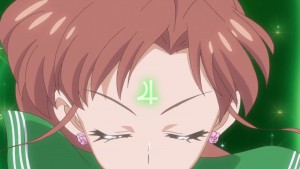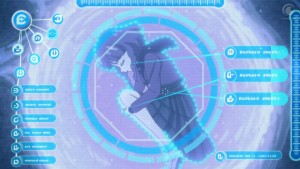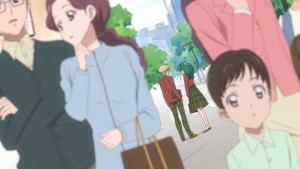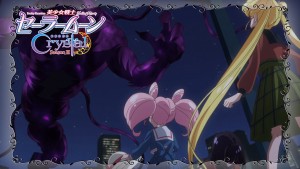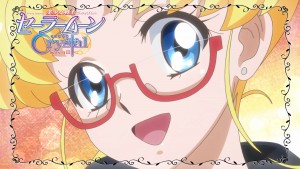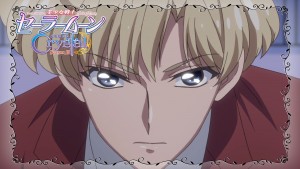 Possibly Related Posts