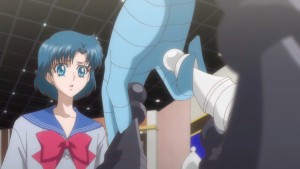 The latest episode of Sailor Moon Crystal, Act 16, Abduction – Sailor Mercury, is now available to view for free on Crunchyroll, Hulu and Niconico. This week's episode is tons of fun with the Tuxedo Mask puppet, some fan service in the form of swimsuits, young Ami and her daddy issues and of course Berthier who may or may not have been an inspiration for Elsa from Frozen.
This episode had a number of differences from it's original manga version, in changes, omitted scenes and in added content. That said, it also had a lot in common and like the rest of Sailor Moon Crystal is a very faithful adaptation.
In the opening scene of the episode Usagi gets upset at Chibiusa but what she doesn't do is raise her hand threatening to hit her as she did in the manga. This sort of changes the tone of the next scene where Usagi feels a sense of guilt but not about raising a hand at Chibiusa but instead about not protecting Sailor Mars who is now kidnapped.
Chibiusa runs off and, as usual, hides in the park. Mamoru takes her home and talks to her with his Tuxedo Mask puppet. This puppet has been in the original manga, original anime and even in the latest musical, Petite Étrangère. All of a sudden I wonder just where he go that thing. Is Mamoru such a megalomaniac that he built a puppet of himself? Maybe he found it in a store and finds it so bizarre that products of his alter ego exist that he had to buy one. He uses his ventriloquism to make the puppet talk and also makes the excuse that this is why Luna seems to talk. But why doesn't Chibiusa expect Luna to talk? We will later learn that one of Chibiusa's good friends in the future is Diana, a talking cat herself and daughter of Luna and Artemis. Chibiusa also travels with Luna P which looks just like Luna who she must surely know in the future. While Chibiusa has trouble recognizing her mother and father why would she also have trouble with this cat that looks so much like her ball and why would she be at all surprised to hear one talk?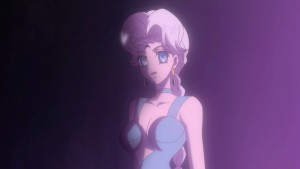 Enter Berthier! She uses dowsing to find water and help with her chess game. Dowsing is not real. This whole arc is riddled with pseudoscience. I understand that within the context of the story these people can use magic but just like UFOs and to a greater fortune telling were the nonsense in the last show dowsing is the nonsense this week. Historically it's just something that used to be used to find water or minerals underground using items such as a divining rod but when there are modern dowsing products which claim to do things like detect bombs, directly contributing to a loss of lives in war zones, I feel people can do with being reminded that dowsing has no basis in reality.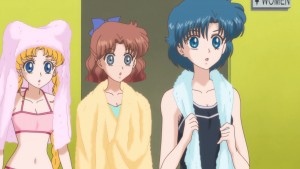 Those who read the comments on this blog will note that one particular commenter has been asking since the beginning just when we will be getting a beach episode, particularly desiring that we see some of the characters in two piece suits. Well his day has come. This week we see Ami, Naru and Usagi in swimsuits at the pool. In the original manga version we see these three only wearing simple one piece suits but they have been updated a bit for the show. Ami's suit as seen from the pool seems like a simple one piece, though when seen from behind the design doesn't appear to be that consistent. This is fitting with how she is usually portrayed in the original anime as well. Naru's suit is the most interesting as it looks quite a bit like the bikini she wore in episode 23 of the original anime. While Sailor Moon Crystal is frequently manga based it only occasionally takes cues from the original 1992 Sailor Moon anime. This suit also bears a bit of a resemblance to the dress that Naru wears to the ball. Finally we have Usagi's suit which goes from a one piece in the manga to a two piece bikini here in Sailor Moon Crystal. This seems like blatant fan service as Usagi wears her towel on her head. An awkward thing to do when your goal is anything but exposing your bare midriff to your fans. Apologies for speaking entirely too much about such a silly thing, but if the comments are any indication there are people who consider such things to be quite important.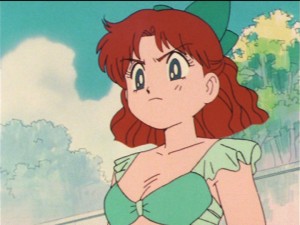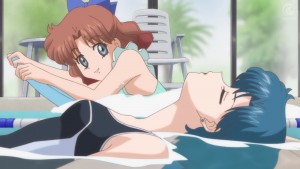 Another anime original thing which makes it into this episode is Usagi's inappropriate cheering at a chess tournament. In both the original anime and Sailor Moon Crystal she makes a spectacle while cheering for Ami and is told to be quiet. One background character in this scene looks a bit like Yusuke from Yu Yu Hakusho, written by the husband of Sailor Moon's creator Naoko Takeuchi.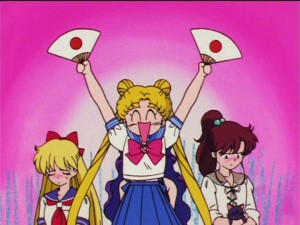 Berthier is shown to be the the 3rd ranked chess player in the world. Later in the episode Ami beats her. Does this make Ami the 3rd ranked chess player in the world? You would think someone with such a skill would do more than just occasionally play on their iPad! I guess she does have world saving to do. Berthier's clothing is ridiculous. It's a full on super villain costume. That's cool for fighting the forces of good and all but the way she just wears these clothes to a chess tournament like it was nothing is a bit silly.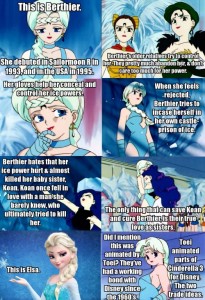 Speaking of the way Berthier dresses, some have mentioned similarities between her and Elsa from Frozen. See the image included above that explains the parallels between the two. This seems a bit far fetched to me. The controlling of the power and similarities in her relationship to Koan aren't really the same. She does not encase herself in an ice tower. The similarities are mostly cosmetic and even that could be a coincidence. Elsa and Berthier both have ice powers, and so they dress in blue, a colour associated with cold. They also have white hair or light hair which is also natural for someone with ice powers. The braid is really the biggest similarity going on here. All considered I think Elsa bares more of a passing resemblance to Rosalina from Super Mario Galaxy. Why not just get the Elsa Disney Infinity figure instead of the Rosalina Amiibo which has been so hard to find?
This is a fairly Ami centric episode, as she is the one to get kidnapped this time around. One big addition to the story not in the manga was the inclusion of young Ami and showing more of her father. Young Ami is quite cute and shown being abandoned by her father who is a painter. She is also shown having an interest in playing chess. Sailor Mercury uses a new ability Shine Snow Illusion. This isn't enough to save her from getting kidnapped. Who will be next?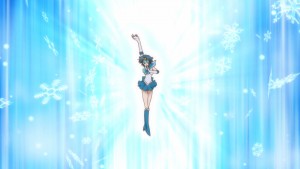 The next episode is Act 17, Secret – Sailor Jupiter. The episode preview shows some shipping between Makoto and Ittou Asanuma. His scenes were cut from episode 16 but we'll be seeing more of him next time.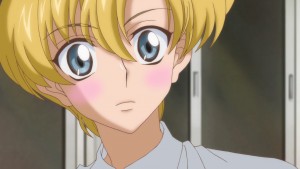 A couple of visually interesting things are seen in the next episode preview. Usagi has no nose in one shot and Chibiusa is wearing a short sleeved version of her blue school uniform. This seemed off to me and a post on the moonsisters.org Facebook page made me realize what is what. Chibiusa's white school uniform is normally the one that has short sleeves while her blue school uniform has long sleeves.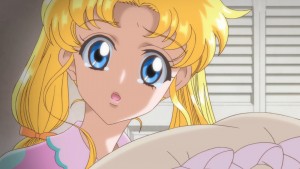 Keep reading for more images from this episode and the next episode preview.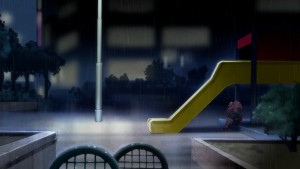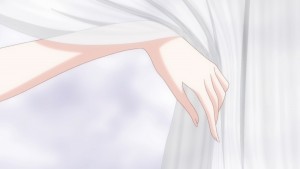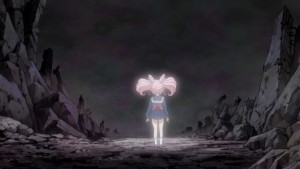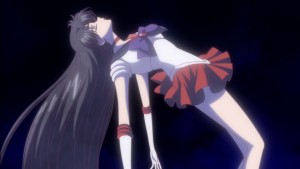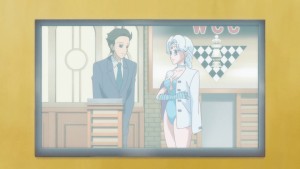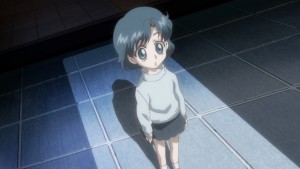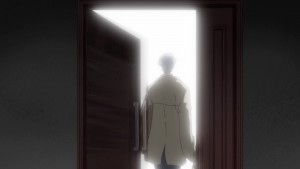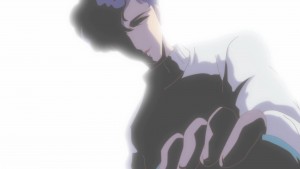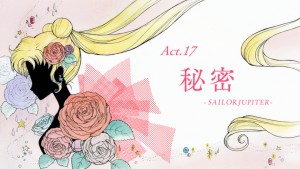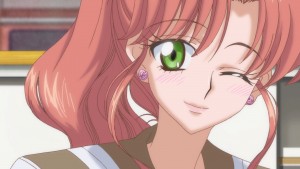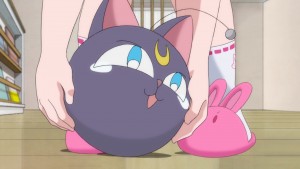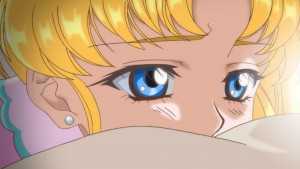 Possibly Related Posts