The schedule for Fan Expo 2013, the convention taking place August 22nd to the 25th, has been released online. In it we see that the "Sailor Moon 20th Anniversary Cast Reunion" panel will be taking place on Friday afternoon at 2:30pm so if you're not a big fan of Richard Dean Anderson I suggest you cancel all other plans and make it to that panel! As we mentioned previously there will be many guests from the Sailor Moon dub in attendance at the convention. The panel will include Toby Proctor, the voice of Tuxedo Mask, Linda Ballantyne, the voice of Sailor Moon, Susan Roman, the voice of Sailor Jupiter, Katie Griffin, the voice of Sailor Mars and John Stocker, voice director for the series.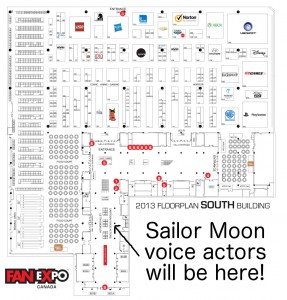 There are no autograph sessions listed for any of these actors. The Sailor Moon guests have spots at a table in a hall on the same floor at the Expo Hall. If it's anything like last year attendees will be free to approach them for autographs throughout the weekend while they're at their tables. Check out the area that says "Cartoon Voice Actors" on the floor plan to find your favourite Sailor Moon star.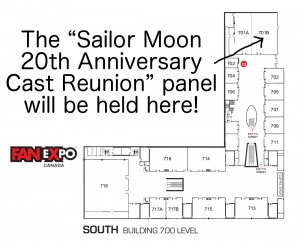 The panel will be taking place in 701B which you can see from the floor plan is located one floor up from the main expo hall at the far end of the hall with the main elevators.
I hope to see you at the convention.
Possibly Related Posts