A longer video showing the Sailor Moon Eternal theme song Moon Color Chainon which includes the voices of the Sailor Guardians singing has been shared on YouTube and the Official Sailor Moon Site. You can watch the video embedded below.
This is different from the full length video which was shared earlier this month. That was the Momoiro Clover Z version of the song. This version, which is the one included in the Eternal Edition of the album, is still sung by Momoiro Clover Z but joining them are the voices of the Sailor Guardians from Sailor Moon Crystal. That includes Kotono Mitsuishi, the voice of Sailor Moon, Hisako Kanemoto, the voice of Sailor Mercury, Rina Sato, the voice of Sailor Mars, Ami Koshimizu, the voice of Sailor Jupiter, and Shizuka Ito, the voice of Sailor Venus. We had gotten a preview of this version of the song in a very short clip which was released in October. This is a longer version but at a minute and a half it is still a short version of the song with the full version being about three and a half minutes.
All four members of Momoiro Clover Z as well as the five voice actors appear in this video. The close up shots are all of the members of Momoiro Clover Z while the shots of women standing in front of a brick wall with a TV screen are of the voice actors. You can tell who is who by the colour of the border around the image and of course the character shown on screen while they are singing.
The video also includes clips from the Sailor Moon Eternal films. Some of it is new and some of it we've seen before. I've included some screenshots of the new footage in this post.
Sailor Moon Eternal Part 1 will be released in theatres in Japan on January 8th with Part 2 following the next month on February 11th. Though no date or specifics have been announced it seems likely that the English version of the films will be streamed on Netflix.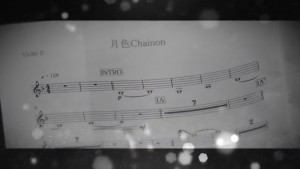 Keep reading for more screenshots from this video.
Possibly Related Posts