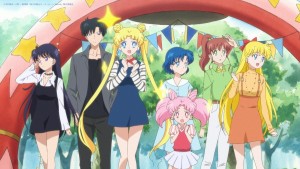 We've got yet another early leak of images from the Sailor Moon Eternal films! This time there are three pictures! The first shows Rei, Mamoru, Usagi, Ami, Chibiusa, Makoto and Minako just hanging out. There's an image of Chibiusa and Usagi sleeping in bed. We also have Helios and Chibiusa in an image which appears to be in a dream.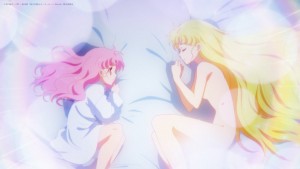 What's important about these images? A few things. One might notice that Chibiusa is once again wearing Mamoru's shirt while sleeping! This scene is right out of the manga as Chibiusa is envious of Usagi's adult body, something which will have hilarious consequences. It's not so uncommon for someone to wear Mamoru's shirt of course as we've seen earlier in the series. Both Usagi and Chibiusa wear Mamoru shirts back in Act 19 the morning after it's heavily insinuated that he and Usagi had sex. Does anyone else have a white man's dress shirt anywhere in these leaks? Oh that's right! Rei is wearing what could totally be one of Mamoru's shirts as part of her lovely outfit. Perhaps Rei also got one of Mamoru's shirts after spending an intimate night at his place.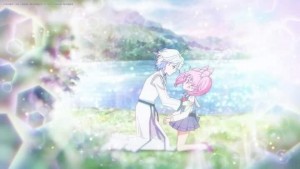 Sailor Moon Eternal Part 1 will be released in theatres in Japan on January 8th 2021 followed closely by Sailor Moon Eternal Part 2 on February 11th. The movies will follow the Dream arc of the Sailor Moon manga which was adapted loosely as Sailor Moon SuperS in the 90s Sailor Moon anime.
Source: nonameq9 in the comments and @rarararanze on Twitter
Possibly Related Posts