Update – 2020-08-14: The original post categorized these as a leak as I was not aware that these images had been posted to the official site.
A collection of 10 new stills from the first of the two Sailor Moon Eternal films has been posted to the Official Sailor Moon site. The post advertises a collaboration with Lawson convenience stores for a number of products. These 10 stills will be available from Lawson photocopiers. Though we'd already seen a couple of these, most of them seem to be new showing us single frames from animation which will likely be seen in Sailor Moon Eternal Part 1, which will be released in theatres on January 8th 2021.
Here's a look at each still individually.
Super Sailor Chibi Moon and Super Sailor Moon posing. We had already seen this as part of footage which was already released so this is a higher quality image than the other samples.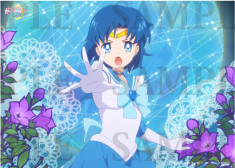 Sailor Mercury posing during her post transformation speech. The pose is similar to past seasons but the designs are updated.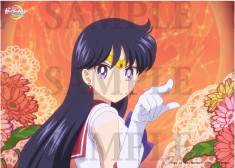 Sailor Mars posing. Again the same pose with new designs. Her wrist seems a bit less limp if that makes sense.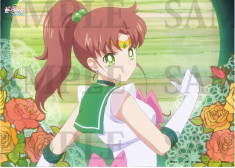 Sailor Jupiter posing. Her hair isn't holding as well as it has.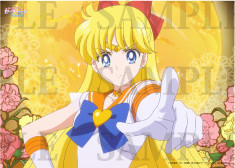 Sailor Venus posing. Her finger seems to keep getting bigger.
Super Sailor Moon hugging a faceless Mamoru. We've seen this one already as well.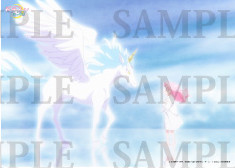 Pegasus and Chibiusa. Many have pointed out that Pegasus is pony sized in these films.
He does seem to be a bit smaller than what we'd seen in the first Sailor Moon anime, but Chibiusa's size is a bit inconsistent in Sailor Moon Crystal. An earlier image of Chibiusa and Pegasus which we saw made him look much smaller.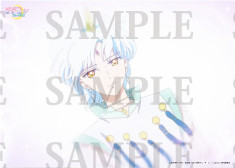 Helios. We'd seen his designs but this is the first actual frame of him that we've seen.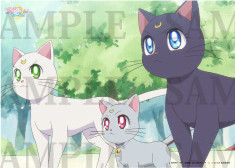 Artemis, Diana and Luna. Luna's eyes are now blue, while they were red in previous seasons. This may be so that her eye colour is consistent with human Luna who we will be saying likely in the second film which will be released on February 11th 2021.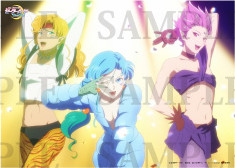 The Amazon Trio. Striking a pose!
At this point we are certainly seeing more and more of the art style. While I would like to see more of it in action these stills give us a decent indication of what we're in for next year. What do you think?
Source: Sailor Moon Thailand on Twitter
Possibly Related Posts