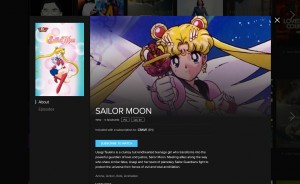 Canadian Sailor Moon fans can now watch the original Sailor Moon anime on Crave. The streaming service added all five seasons of Sailor Moon to it's catalogue on Friday September 18th. When we originally posted this news in August it wasn't clear whether or not the series would be streamed in English but now we know that it is but also that the original Japanese version is not available on the service. This seems like a very odd choice but luckily Canadian Sailor Moon fans can still watch the Japanese version of the original anime for free on Tubi. It's worth noting that the video quality of the series on Crave looks quite good. It seems that Viz has used some better masters for this than were used for their original Blu-Ray releases. I haven't been able to do specific comparisons but some fans are suggesting that these are the same versions used for the Japanese Blu-Rays.
The impact of Sailor Moon being added to the service was immediately apparent. Though I didn't see the show in many categories when I checked the service slightly after midnight on September 18th by mid day Friday it was in many categories on the site including Just Added TV Shows, Buzzworthy and Kid Stuff. Sailor Moon was trending on Twitter in Canada on Friday and, something which is always a sign that news about the show has gone mainstream, I had two non Moonie friends text me to tell me that they saw that the show was on Crave. What's the best way to show appreciation for the kind gesture while politely telling someone you knew about a thing months ago?
It's hard to explain what a cultural phenomenon Sailor Moon was here in Canada. While the show was of course popular in the United States and throughout the world in the 90s the show really was a mainstream staple which everyone knew about in Canada in the 1990s. It wasn't just a hit amongst anime fans but something every kid knew about. It played multiple times a day on Canadian channels YTV and Global. Now that it's gotten prominent attention on a popular streaming platform a lot of people who may not have followed the show much over the past 20 years are likely having a chance to see it again. Though this won't include the DiC dub for which most people are nostalgic for, hopefully many of them will appreciate this new and more faithful dub for what it has to offer. I wonder how many people this weekend will be watching the show and seeing those early episodes which weren't originally dubbed such as episode 2, Punishment Awaits: The House Of Fortune Is The Monster Mansion, episode 5, Scent of a Monster: Chanela Will Steal Your Love, and episode 6, Protect the Melody of Love: Usagi Plays Cupid.
For a lot of us including readers of this site Sailor Moon never really went away but for casual fans in Canada I think this is a big deal and I hope this brings the series back to the attention of some older fans and makes some new ones.
Have you been watching the show on Crave?
If you'd prefer to own a physical copy of the show you can support the site by purchasing the home video releases using the links below.
Possibly Related Posts