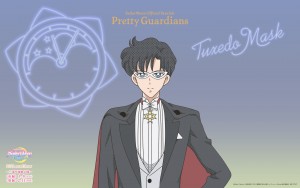 August 3rd is Mamoru Chiba's birthday and what better way to celebrate than to have our first look at Tuxedo Mask's character designs for the upcoming Sailor Moon Eternal films? What do you think? He's got the Tuxedo and the Mask. No top hat but that isn't that odd as he's often not wearing his hat in the manga and Sailor Moon Crystal. He's got little dots in his hair but I'll assume this won't be something we will be seeing in the actual film.
The first of the Sailor Moon Eternal films will be released on January 8th and will feature the first half of the Dream story arc of the Sailor Moon manga. Mamoru features prominently in this story arc so we should see a fair amount of this design in these films.
We've now seen pretty much everyone except for every single villain. With January fast approaching one would hope we'll get to see some of the Dead Moon Circus, starting with the Amazon Trio and Zirconia, some time soon!
Possibly Related Posts