This afternoon I received my replacement booklet for the Sailor Moon Sailor Stars Limited Edition Blu-Ray set. I was surprised to see this so quickly as I'd only put in the request 11 days ago on September 8th and today on the 19th it arrived at my door. Great turnaround by Viz and Warner Brothers! I was however a bit surprised to check out the relationship chart and to see Sailor Uranus and Neptune were listed simply as "Partners". I was hoping their connection would show "Love" like is indicated for Usagi and Mamoru. Additionally the lyrics for Moonlight Legend have not been corrected.
In the press release by Viz it did indeed state "Sailor Neptune and Sailor Uranus are not friends, but in fact, partners" and we understand in this context that this means romantic partners and not, say, two people working together to sell insurance. In the relationship chart is that so clear? Are they partners in fighting evil or partners in the bedroom? Having watched the dubbed version of Sailor Stars Part 1 the faithful adaptation makes it clear beyond any doubt that these two share an intimate relationship with a number of suggestive lines. As I'd mentioned in an earlier post on the issue, they were previously listed as "Partners" in the Sailor Moon S relationship chart and that didn't seem to have caused the same concern. Of course no one even noticed the error with the lyrics going back to the first season so I'm not sure how much people paid attention to such specifics. It's worth noting that the term "Lovers" was used extensively in the Sailor Moon R relationship chart, though these two were not in that season.
Although the original press release mentioned "The erroneous text is in the romaji provided with the song lyrics." and fans assumed this was in reference to an untranslated piece of text from Moonlight Legend, the Sailor Moon anime opening theme for all but this season, this doesn't appear to have been fixed. I'm wondering if there was perhaps another romaji problem that was corrected? I did not do a page by page word for word comparison of both booklets to check.
Other minor changes exist in the relationship chart such as the Three Lights' names being corrected to given name first, where this was inconsistently using their family name first in the old chart. They are also listed as "Sailor Star Lights" as a group where they weren't before. Minor formatting changes exist on other pages but as I mentioned I didn't do an exhaustive comparison.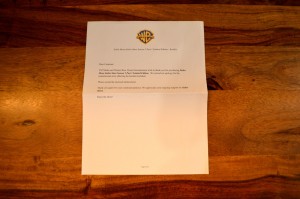 What do you think? Am I being extra picky by expecting these two to be listed as being in "Love" after all that's gone into this? Did you get your replacement booklet yet? Have you noticed any other differences?
Possibly Related Posts