Viz's Sailor Moon panel took place today at Anime Expo in Los Angeles. You can watch the stream of the event at Ustream. The main announcement that took place was the cast of Viz's new dub of Sailor Moon S. Though most of the cast appeared in earlier seasons the new characters who's voices were announced were Sailor Uranus, Sailor Neptune, Sailor Saturn and Professor Tomoe.
The new cast, all of whom were in attendance, are listed below:
Professor Tomoe by Keith Silverstein
Sailor Uranus by Erica Mendez
Sailor Neptune by Lauren Landa
Sailor Saturn by Christine-Marie Cabanos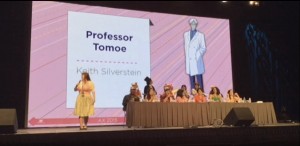 Keith Silverstein also voiced Usagi's father Kenji Tsukino while Erica Mendez also voiced Reika, Motoki's girlfriend.
We previously mentioned that Erica Mendez would be appearing at Unplugged Expo July 31st to August 2nd in Toronto based on her role as Reika. Now that she's been cast as the voice of Sailor Uranus fans of Sailor Moon will have another reason to meet her.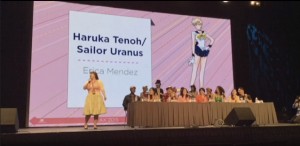 There was more announced at this event. We've learned that there will be another Moonlight Party on July 17th. This will coincide with the release of the English dub of the second half of Sailor Moon R on Hulu.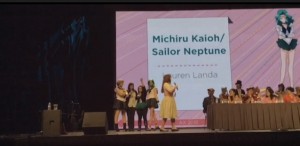 It was also announced that the dubbed version of Sailor Moon Crystal will be exclusive to Hulu. We can infer from this that Sailor Moon Crystal will not likely be playing on English television. Though the subtitled version of Sailor Moon Crystal will remain available on Crunchyroll and Niconico, this does not leave any option for viewing Sailor Moon Crystal in Canada, where Hulu is not available. Canadians still have no legal option for viewing the streaming version of the subbed and dubbed versions of the original Sailor Moon Anime. This said there are many proxy.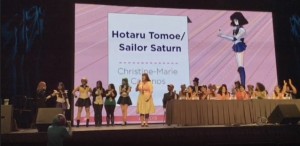 A clip of the English dub of Sailor Moon Crystal was shown, and can be seen at the 41 minute mark of the stream. The first two episodes will be premiering at Anime Expo today at 6pm Pacific Time, which is 9pm Eastern Time.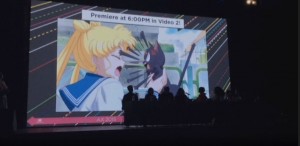 Possibly Related Posts