The most recent episode of Sailor Moon Crystal is now available to view on Crunchyroll, Neon Alley and Hulu. This week's title is the longest to date as we get Sailor Moon Crystal Act 30, Infinity 4 – Sailor Uranus – Haruka Tenoh – Sailor Neptune – Michiru Kaioh. But is this the title? That is what the original manga chapter is called and from the title card appears to be the proper Japanese title but the Crunchyroll and Hulu subs and page titles call it "Episode 31 – Act.30 INFINITY 4 Haruka Tenoh, Michiru Kaioh – SAILOR URANUS, SAILOR NEPTUNE". Why change the name like this? Seems an odd choice! This week we continue to deal with drama related to our new friends and Sailor Mercury faces off against Viluy of the Witches 5.
First things first, we have a new opening theme song. Somehow I didn't realize we were getting it this week. This story arc will actually have three opening and three ending themes. These are the second batch. The opening theme song, In Love With the New Moon, is now sung by Mitsuko Horie who is best known as the voice of Sailor Galaxia. She also covered the Sailor Stars Song as part of the 20th Anniversary Album. It's a bit odd to hear a slightly changed version of the theme song we'd just started to get used to. I tend to prefer the first version but I wonder if my feelings would change had I heard this one first. I guess we will be getting this version for another few weeks before it is replaced with the Momoiro Clover Z version of the song. They sang Moon Pride for the first two story arcs of Sailor Moon Crystal.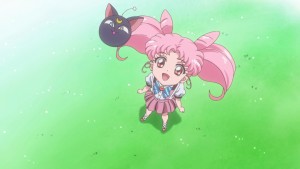 The new ending theme is Maiden's Advice, sung by Misato Fukuen, the voice of Chibiusa. The ending theme is full of pink and Luna Ps as far as the eye can see. A big change from the last ending theme we had. This will eventually be replaced by Only Eternity Brings the Two Together, sung by Kenji Nojima, the voice of Tuxedo Mask. A CD single with the current opening and ending themes will be released on May 25th, after which I suspect we will be getting the third opening and closing.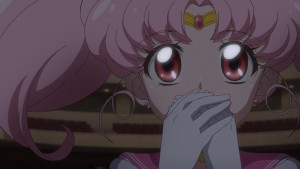 As the episode begins it is immediately obvious that these new Sailor Guardians can't be our friends. Prelude to drama! Sailor Uranus and Neptune straight up attack Sailor Moon and her friends because we sort of have the same mission but we aren't friends so we just aren't. In the process Chibiusa immediately betrays her promise to Haruka and Michiru by revealing that Sailor Neptune's Mirror is a Talisman. Too bad she doesn't share Hotaru's secret and tell us who the big bad guy is but whatever we needed to make Ami work a bit this week anyway.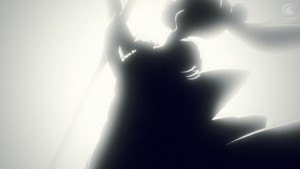 Another shared dream. This one shared by Mamoru and Usagi, who see the "Deity of Destruction". The Messiah? Looks like Princess Serenity with a staff, maybe a glaive, to me. The two seem surprised to share a dream, even though this has been happening consistently for the past few episodes.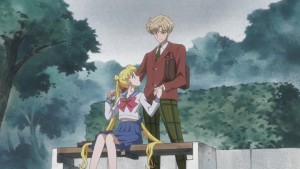 Usagi is chilling in the park and someone comes by from behind covering her eyes with a sort of "guess who" thing. I hate this game, especially when the person who plays it isn't someone you play it with a lot. Guess right and it's not a big deal. Guess wrong and it's drama drama drama. So Usagi guesses Mamoru, which is odd since she recognizes that Haruka smells like Sailor Uranus. I guess she's bad at this game too. At this point everyone seems to know who's who and when Haruka gets close… Mamoru shows up!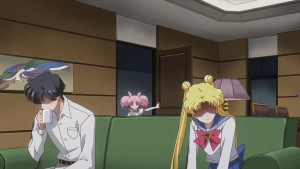 The drama continues at Mamoru's apartment and while things are tense Chibiusa crashes the party! She appears to be oblivious to the problem but we eventually learn that her and Diana are actually trying to get them to make up. Chibiusa's makeup attempt includes making the Holy Grail! This is an odd thing. Chibiusa remembers seeing this item, which Sailor Moon used back in the day aka the future, in a painting in her mother's room. So the Holy Grail that is made in this episode actually doesn't exist yet! Mamoru looks up the Holy Grail in "An Encyclopedia of World History". I don't really think of the Holy Grail as being a historical object what with it in all likelihood never having actually existed, but whatever. It's a show about magical girls.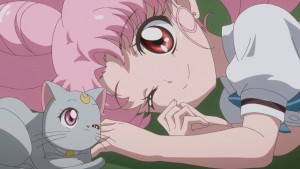 Finally once Chibiusa and Diana are asleep Mamoru and Usagi have a little moment where they both admit to being jealous and then they probably have sex. But Chibiusa and Diana aren't really sleeping so Chibiusa maybe sees her parents having sex. I guess it's in Chibiusa's best interest to encourage her parents to have sex because that's how she'll be made some day, unless human sexuality changes drastically in the next seven or so years.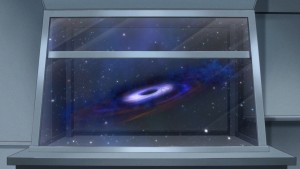 On to part two which has almost nothing to do with the first half of the episode. Ami enrolls at Mugen Preparatory School, which is a sort of high school exam preraration school given at Mugen Academy but with a ton of students from others schools, hence the variety of uniforms. Ami is a genius, so it makes sense that she goes here, but she's actually investigating too! She goes up to the 13th floor and sees a scale model of a galaxy. I say galaxy of course because I know that's what it looks like. Yui Bido, actually Viluy of the Witches 5, refers to it as a scaled down universe, and states that it's the Tau Star System. Let's correct some confusing terminology here. The Universe is vast and contains at least a hundred billion galaxies. This model contains a single galaxy. This is hardly a scale model of any Universe as we know it. It's also referred to as the Tau Star System. What exactly does this mean? A solar system is a star with planets and such around it. A star system can mean a few stars orbiting each other, such as a binary star system, but when you get to galaxy scale, containing hundreds of billions of stars, you don't call things a star system anymore. So much to say, what we see about this thing contradicts the wildly varying things it's called. It's not that hard to get these things accurately, especially given Naoko Takeuchi's interest in space. I'm sure this won't get better as the story arc proceed and we learn more about the Tau Star System. Everything we know about physics also tells us that you can't just scale something down like this. Is this galaxy made up of tiny stars with tiny planets around them filled with tiny people made up of tiny cells and tiny molecules made up of tiny atoms? Whatever. It's a show about magical girls.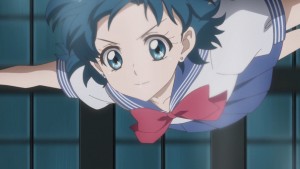 Ami starts to poke around. She throws a pen into a camera which is bad ass. She's on the 13th floor. She sees a door that is labeled "Underground laboratory". She's on the 13th floor and sees a door that leads to a lab which is under the ground, generally accepted to be at floor one. In there she finds Daimons and the enemy shows up. She's underground at this point. She runs to the nearest window and … she's back on the 13th floor! What exactly is going on here with a dedicated stairwell that goes down 13 floors but doesn't open up to any other floor? Is there some sort of portal through space that leads from one floor to another? Anyway Ami is totally bad ass again by jumping out the windows, diving into a pool and transforming while diving, emerging as Sailor Mercury. Pretty awesome. Reminds me a bit of Ami's first transformation in the live action series which is done while she's falling.
Sailor Mercury fights Viluy who fights with nano robots. Advanced technology which is basically a swarm of tiny robots all working in unison for something. For whatever reason the cloud of nanobots appears as formulae over Sailor Mercury. Why not? Sailor Uranus and Neptune appear and transform for the first time. The transformation sequences are brief and similar to those from the original Sailor Moon anime. After a few attacks magic beats technology yet again. Viluy's power level was 202. I'm not sure how accurate this scale really is, but they keep using it. The page of the book which the Holy Grail appears on happens to be 202. What an odd reference.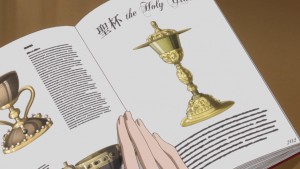 Finally we see an old friend. Reika and Motoki are at the University and we see a new first year student, Setsuna Meioh. If the resemblance was not immediately obvious this is the civilian identity of Sailor Pluto, who died last season in the distant future.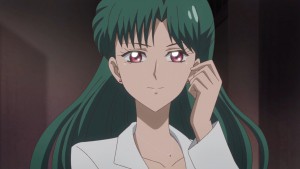 Next week is Act 31, Sailor Pluto – Setsuna Meioh, in which we will see Sailor Pluto once again.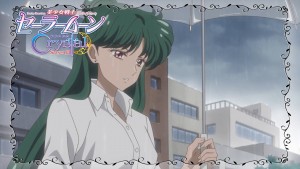 Keep reading for more screenshots from this episode and the preview for Act 31.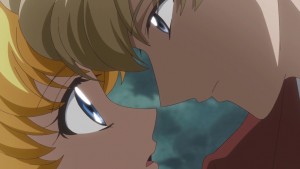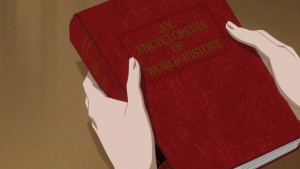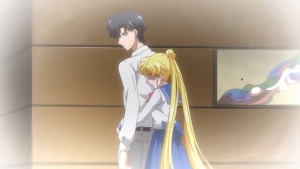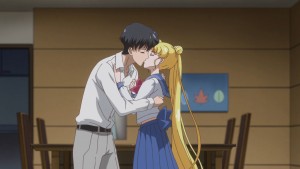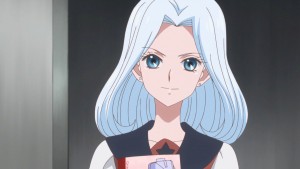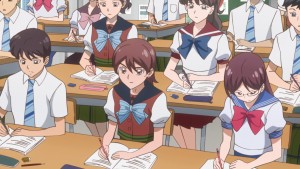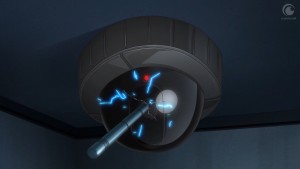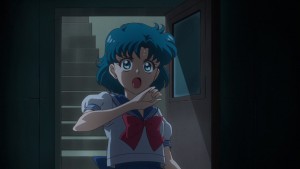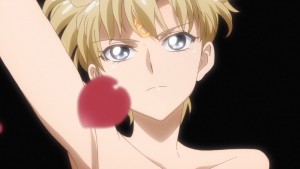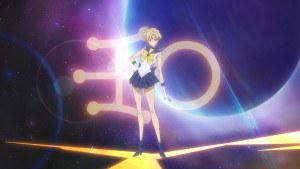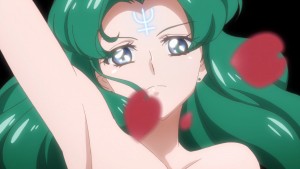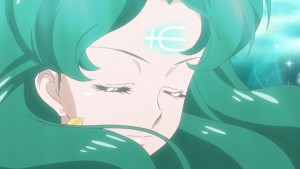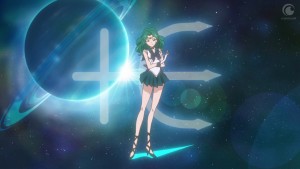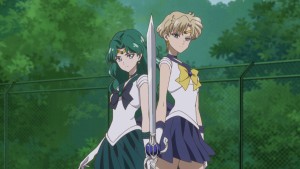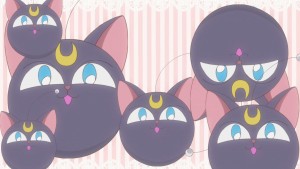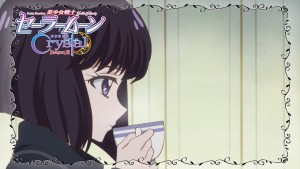 Possibly Related Posts