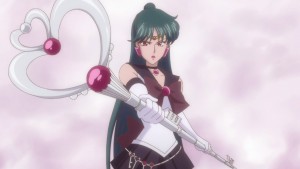 The latest episode of Sailor Moon Crystal is now available to stream on Crunchyroll, Hulu and Niconico. This week is Act 19, Time Warp – Sailor Pluto. The gang travels to the future and are confronted by Sailor Pluto, but not after Mamoru and Usagi spend the night together.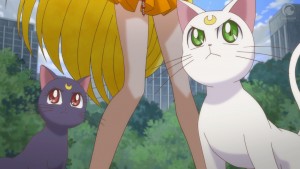 As the episode opens Chibiusa is pleading for Sailor Moon to come to the future to help her mother. Artemis doesn't care much about that, but has the idea that if the Black Moon Clan is the one that attacked her future city, that might be where Sailor Mercury, Mars and Jupiter are waiting. It would be nice to think that the gang goes to the future to rescue Chibiusa's family, but in reality they have the ulterior motive of rescuing their friends. Regardless they decide to go, but not before a sleepover!
Chibiusa wants to sleep at Mamoru's, but she's not alone! Mamoru tucks her into bed with Luna-P which is kind of funny because it looks like Luna-P is a full sized human and that the ball is just a head. Following this Usagi and Mamoru share a tender moment in which Usagi expresses her jealousy for Chibiusa and then they have sex. This happens in the manga as well. It's fairly obvious what happens but here it's even less ambiguous. They kiss, they lie down, they hold each other's hands and they sleep together. We later see them the morning after where Mamoru puts a white shirt on Usagi. He's wearing one, Chibiusa is wearing one and Usagi is wearing one. It looks like Mamoru has nothing but white dress shirts in his closet and that he loves putting them on women. I'm not sure why anyone finds this comfortable. These aren't the shirts that Mamoru wears under his tuxedo. Those have little folds on the collar and frills along the front. These are white dress shirts Mamoru keeps seemingly exclusively for putting on women who don't fit in them. Not sure I see the appeal of this comfort but it seems to work for him.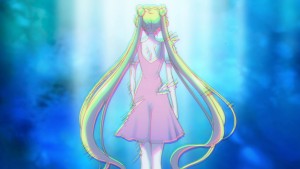 In the pre-sex conversation Mamoru sees Usagi almost disappear. What is this? Is Usagi meant to be disappearing because of all this time travel? This is really not how time travel works. If past Usagi was affected I can understand the time travel plot of having future Usagi disappear, as silly as this concept is. But here it's future Usagi that is in danger while past Usagi is fading a bit. How odd. Perhaps that's not what this is meant to be at all though. Perhaps this is an omen Mamoru has about the future dangers to Usagi.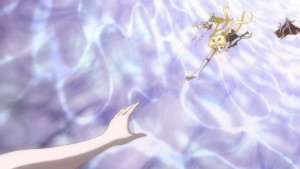 We decide to go to the future! Everyone has one job and one job only to ensure this is a success! Hold on to Chibiusa's hand and don't let go! They do this and as soon as the time travel starts everyone lets go! Well done folks. This leads to some confusion in the future.
Sailor Moon, Tuxedo Mask, Sailor Venus, Luna and Artemis are the first to arrive at the Space-Time Door. Sailor Pluto is there and she doesn't seem to care that they are Sailor Guardians! She uses her lethal Dead Scream attack on the whole lot of them. Time travel is sort of frowned upon and Sailor Pluto's job is to kill people that do this. She's pretty soft on Chibiusa though as she does nothing to punish her for traveling through time to save her mother. Sailor Pluto makes a comment which I've seen translated differently so it's hard to interpret. In the English translation of the manga and of Sailor Moon Crystal she mentions that "You guys" have always caused trouble for her, which one would assume means Chibiusa and Sailor Moon. This insinuates that she knows fully well who Sailor Moon is and who she has become in the future but is still willing to kill her! The other translation I've seen in the French version of the comic simply says that Chibiusa is causing her trouble, or in another French translation that Sailor Moon treats Chibiusa like Sailor Pluto has. If Sailor Pluto really does know who Sailor Moon is murdering her seems like a pretty extreme reaction to running into her in the Space-Time Corridor. While the true identity of Sailor Moon is a mystery to the viewers and inhabitants of the 20th century it doesn't seem like it's something she keeps secret from the future inhabitants of Crystal Tokyo.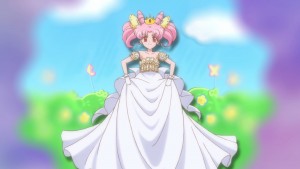 We learn that Chibiusa is a Princess! Boy I wonder who her parents are then? We see an image of her in a princess dress that is very similar to the one Princess Serenity and the young Queen Serenity wore. Perhaps this is simply the style in the future.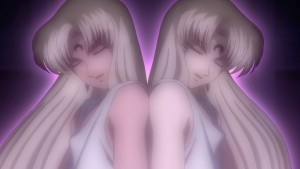 The villains this week are Chiral and Achiral of the Black Moon Clan. In the original anime they were Droids but in the manga and Sailor Moon Crystal they are human. In the manga Chiral is white and Achiral has darker skin. In Sailor Moon Crystal they are white and whiter. What's next. A white Sailor Pluto? In the manga Sailor Pluto has darker skin. She isn't black but she is certainly more tanned than the other Sailor Guardians. In Sailor Moon Crystal she's not much darker than most of the other characters.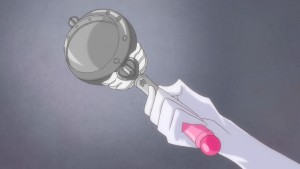 While being attacked Sailor Moon tries to use her Cutie Moon Rod but is unable to. We see it partially in black and white but it's handle is still in colour. An obvious animation error which I expect to be fixed in the Blu-Ray release.
We get to Crystal Tokyo. It's really bad here. We get a look at what it was like before the "explosion" and it looked quite nice but we also see an image of Chibiusa amongst a lot of bodies of what appear to be normal inhabitants of the city. Their clothes are completely ancient looking. They seem to match closely to what we saw in Silver Millennium on the Moon back in the day or even on Earth during this undetermined time period. Surely it's not that far fetched that society would revert to some classic looking styles in the distant future. Some formal wear resemble very old clothing in many ways, such as the Tuxedo that King Endymion wears or the dress that Neo Queen Serenity wears. Why then does Chibiusa have a 20th century style school uniform? Her 20th century clothes stick out amongst these other examples of clothes which appear to some 1000 years older, all of this being set 1000 years in our future. But what do I know about style?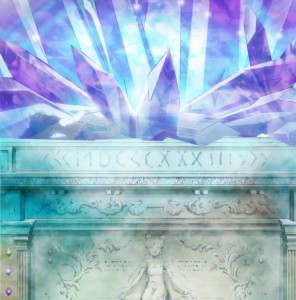 We get a nice look at Neo Queen Serenity. She's lying on what looks like a tomb. It has an inscription on it that says "<<>>". What's that about? It looks like Roman Numerals to me, but what do they mean? I wondered at first if perhaps this was Neo Queen Serenity's birth and death dates. She would be born around 1978 and would have died some time in the 30th Century, that being the year 2900 to 2999. MDC is 1600. CXXXIII is 133. I can't make any sense of this. Anyone have any thoughts on that? One notable thing is that Neo Queen Serenity's hair appears to be white, not the blonde that it should be. This could just be an artifact of the Crystal which is enveloping her.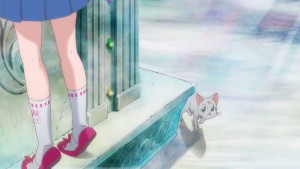 Next up is Diana the cat! We learned earlier this week that she would be voiced by Shoko Nakagawa but we don't actually hear her say anything in this episode. Her presence is overshadowed by the appearance of a familiar face. Sailor Moon immediately recognizes him as being the future version of Tuxedo Mask. Only this man is not dressed in a black Tuxedo but instead all in white. Why not lavendar? King Endymion in the original anime has a lavendar Tuxedo but is this not the case in the manga? Indeed he is almost always seen in black and white and wearing a very light coloured outfit but it is mentioned as being lavender and is shown in the opening colour pages of Act 20 as being of a lavender colour.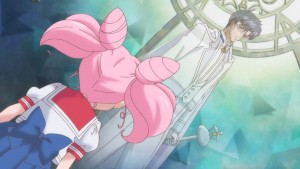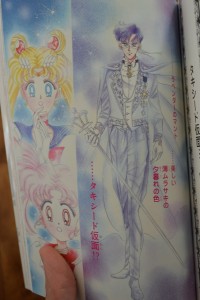 A cool effect exists for this episode. Whenever a character had an extreme emotional reaction, surprise, anger, shock, they showed a funny expression with a comical border. Fans can't help but notice the similarity between these borders and those used in the original English dub by DiC. These borders were used at the beginning in the episode previews and again at the end during the "Sailor Says" segments. The one included below for comparison is from the episode preview for the second episode.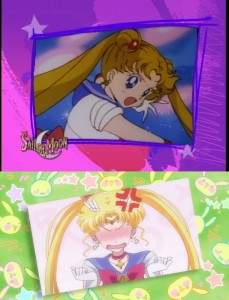 Next up is Act 20, Crystal Tokyo – King Endymion. The next episode preview drops of bit of a spoiler. It's already been stated that King Endymion is the future version of Tuxedo Mask. The preview has Chibiusa calling him "Papa". We now know, as if we couldn't guess it, that Mamoru is Chibiusa's father. It's not much of a stretch to figure that her mother, Neo Queen Serenity, is actually Usagi. The series has not done a terribly good job of trying to hide this from us but I feel like by now we are expected to have figured this out a while ago.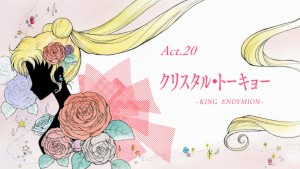 Keep reading for more screenshots from this episode and the next episode preview.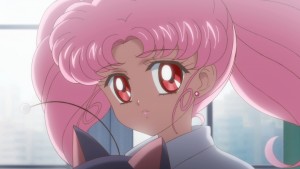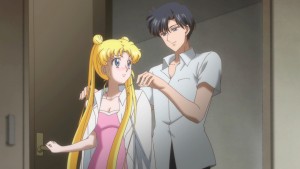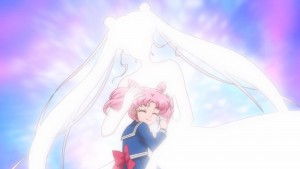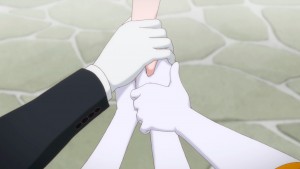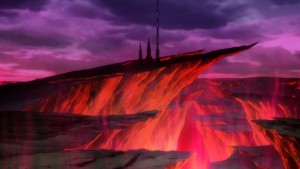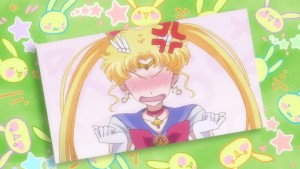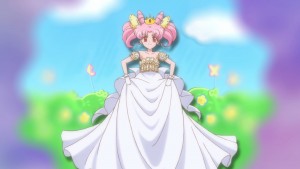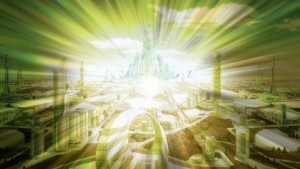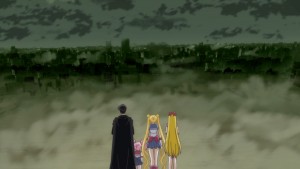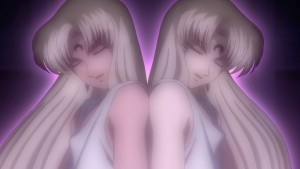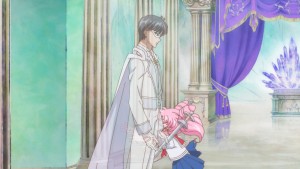 Possibly Related Posts