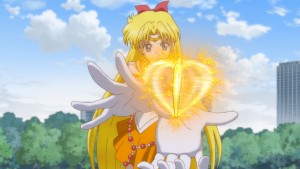 The latest episode of Sailor Moon Crystal was released on Saturday March 21st on Crunchyroll, Hulu and Niconico. This week we have Act 18, Invasion – Sailor Venus, which as the title suggests focuses on Sailor Venus as she faces off against Calaveras, the final remaining Ayakashi Sister.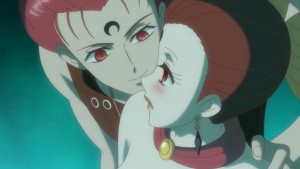 Things are getting pretty bad at this point! Sailor Mercury, Mars and Jupiter have all been kidnapped in standard character order so we focus on Minako, Sailor Venus this week! The Ayakashi Sisters have mostly been killed as well leaving only Calaveras. In her first scene we get a hint at a relationship between Rubeus and herself as he kisses her on the neck. She's obviously upset over the death of her sisters as she summons their ghosts, doing channeling which is kind of her shtick. I've gotten a lot of feedback from readers who don't like my criticism of pseudoscience in my reviews. Indeed I'm not about to discount the magic and time travel aspects of the show but when the characters present pseudoscientific beliefs such as this week's channelling as being true, I feel I must point out that such things are not legit. This is especially true this season as there is an obvious recurring theme with the Black Moon Clan reveling in pseudoscience which some believe to be true, as opposed to the general fantastic nature of the show which is obviously science fiction.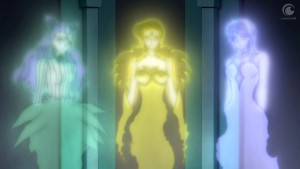 Calaveras does a public channeling of Rubeus, showing the future, but does she even need to do this? We see that she does actually have channelling powers but the people of Tokyo don't really know this. She claims to have knowledge of the future because of this but that's simply because she is from the future. Much like Koan's ability to see the future could have been made up, so could have Calaveras. But the point of the show is not that the enemy is pretending to have great powers. They happen to actually have some and convince the world as such, while still relying on subterfuge.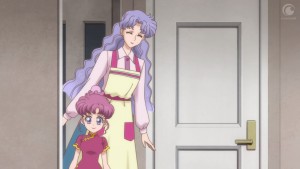 Chibiusa's friend Momoko is introduced this week. Her hair colour in the original anime was first brown and later purple. Here we see her with bright red almost pink hair. Though the manga is mostly black and white Momoko is shown to have bright red hair when presented in colour making this her correct hair colour. The rest of her image is a bit odd. She is given a thin waist and breasts, which is not fitting with a character that is meant to be Chibiusa's class mate.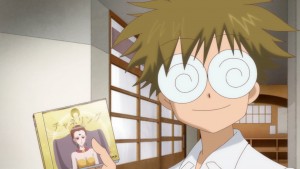 Naru and Umino appear in this act. While the original manga had a "video" mentioned it was not actually shown. It is assumed this was a VHS tape or less likely a laser disk as DVD did not exist in the early 90s. A DVD is seen once again in Sailor Moon Crystal, updating the technology of the show for 2015 standards but still not embracing Blu-Ray for whatever reason. Naru reveals that she knows that something is up with Usagi and her friends, hinting that she either suspects she is Sailor Moon or is otherwise involved. It's nice to see this friendship continue despite Usagi spending so much time with her more super powered friends and her new boyfriend.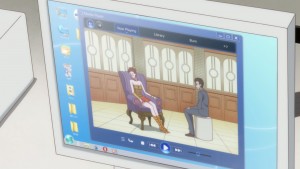 When watching the DVD we get a look at the computers at the school. These are clearly Windows PC type computers. In the past in the series it was all macs, with the tablets having what appeared to be a mix between iOS, Apple's handheld OS, and Mac OS, the full fledge OS for Mac desktops and laptops. This does not have any of the Apple look to it. The desktop folders look like Windows folders, the S shaped icon is similar to the Internet Explorer E. There are icons matching the My Computer, My Network Places and Recycle Bin icons. The Media Player app showing the video looks like Windows Media Player, complete with the menu options, controls and window borders. The only thing which is out of place is the Opera icon on the task bar. Who uses Opera anymore? Just like with the DVDs the Opera web browser is something that is still around but certainly obsolete by anyone who cares about technology!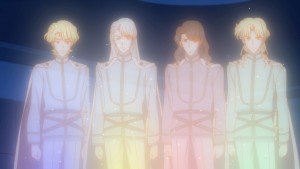 The Shitennou finally reappear in this episode! Fans of the original Anime would expect them to be confined to the first season but like with the manga Sailor Moon Crystal is not done with them. Mamoru still has the stones that represent the four Shitennou and he uses them to channel their ghosts, similar to the way Calaveras does with her sisters. He consults them about what's going on as they are once again shown to be sympathetic heroes, loyal to Mamoru, not the villains they were when working for the Dark Kingdom.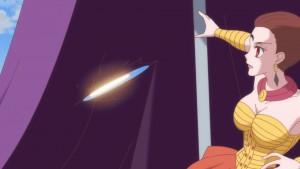 Sailor Venus uses her Rolling Heart Vibration attack in this episode. In the manga she used this against Tuxedo Mask but in Sailor Moon Crystal this is the first time she uses it. Sailor Moon also uses her Moon Tiara Boomerang attack again. This did not occur in the manga. Artemis also gets some action this week as he is seen taking out a cameraman!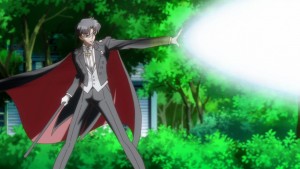 Tuxedo Mask is the one to get a new power in this episode as he gets his first attack Tuxedo La Smoking Bomber. As he does this he shoots a kind of energy from his hands. Why not smoke? The term smoking here does not refer to actual smoke. It's a reference "smoking", the French term for Tuxedo. As a French Canadian this term is not one I would use but I was exposed to it reading the French translations of the Sailor Moon manga which was my first exposure to the books. One thing to note about Tuxedo Mask in this episode is that he is no longer wearing his hat. If the manga is any indication he will not be bringing his hat to the future and so we won't be seeing it again in the series. Tuxedo Mask in the original anime wore his hat consistently when in costume but in the Manga he wears it less and eventually stops wearing it altogether.
Chibiusa is a bit of a brat in this one. She steals Sailor Moon's transformation item, the Crystal Star, because she wants the Silver Crystal. Usagi is mad at her naturally but when Chibiusa is in danger she is quick to defend her. This is a perfect illustration of Usagi and Chibiusa's relationship. They get on each other's nerves and are usually at odds with each other but when it really counts they do care for each other. Chibiusa returns Usagi's broach, allowing her to transform. She then mentions that she took it because she want to take it to the future to save her mother. She mentions that she knows that a Silver Crystal out of it's time period will not work but she still needs to try. Why does she think this? Clearly the Silver Crystal of the future works in the past or there would be no Sailor Chibi Moon! But that's a story for another day.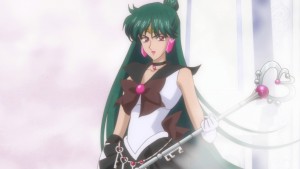 Next time on April 4th is Act 19, Time Warp – Sailor Pluto. Indeed, we will be seeing Sailor Pluto for the first time! We will have the team heading to 30th century Crystal Tokyo in the hopes of helping out Chibiusa's mother.
Chibiusa's shirt gate continues! In the next episode preview we see Chibiusa in both her blue uniform, which she brought from the future, and her white uniform, which she gets in the past. The scene with the white uniform looks like some of the flashbacks we've seen. Chibiusa didn't have her white uniform back in 30th century Crystal Tokyo so what is going on here? This doesn't necessarily need to be a problem. The blue uniform could be a flashback to Chibiusa arriving and the white could be what she's wearing when she arrives in the 30th century as it's the uniform she wears to the future in the manga, and what she is wearing at the end of act 18.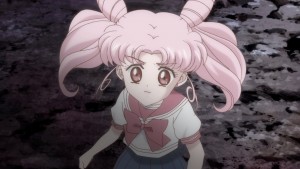 Keep reading for more images from this episode and the next episode preview.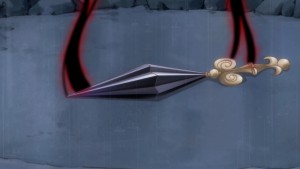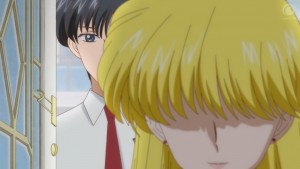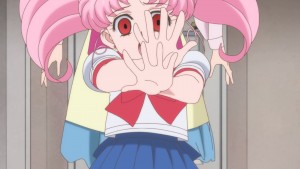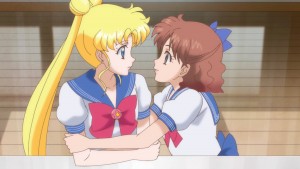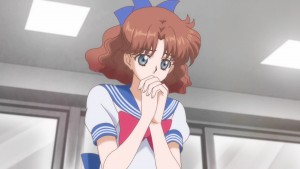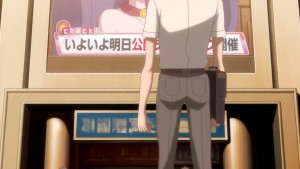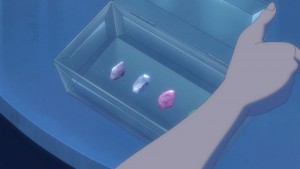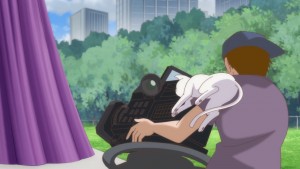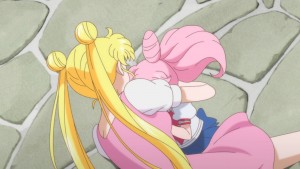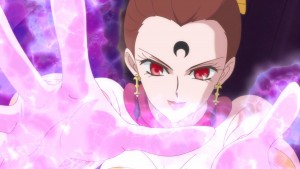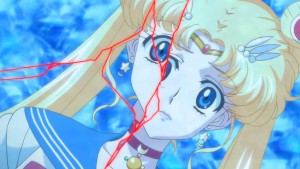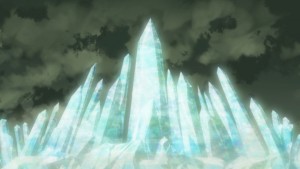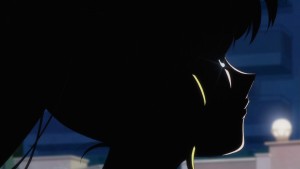 Possibly Related Posts