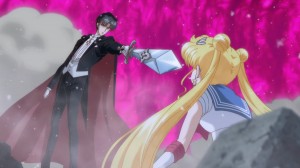 Sailor Moon Crystal Act 12, Enemy – Queen Metaria, began streaming on Crunchyroll, Hulu and Niconico on December 20th. Endo, the guy who looked just like Mamoru, was revealed to actually be Mamoru! Shock! We're really ramping up to the end of the Dark Kingdom story arc this week as a lot of important plot develops. This episodes deviated more from the original Manga equivalent story than any other episode to date. We'll look at some of those differences.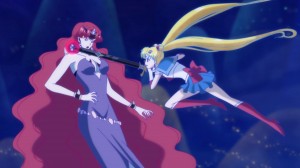 We begin with the final battle with Queen Beryl. This is where everything changes. In the manga Queen Beryl ties up Sailor Moon with her hair and Sailor Venus uses her Venus Love Me Chain to cut her hair and free her. In Sailor Moon Crystal Queen Beryl ties up all five of the Sailor Guardians with her hair. Sailor Venus uses her sword to cut them all loose. The battle quickly ends in the Manga as Sailor Venus runs her sword through Queen Beryl but Sailor Moon Crystal has Beryl defending herself with a sort of force field. Sailor Mercury identifies Queen Beryl's necklace as controlling Queen Beryl and it's Sailor Moon who then takes the sword to break the necklace, which causes her to wither away and die. This change bothered me a bit, even as someone who's always excited for deviations from the original story. For a show that's otherwise been so faithful what does this change accomplish? No "good guy" actively kills the enemy for one, which keeps their hands clean, but if it's just about toning down the violence later events in the episode are not consistent with that. The idea is that Beryl is being controlled by Metalia and has no choice in the matter, just like Mamoru and the Shitennou. So where are the necklaces controlling them? They all seem to be able to have their minds be cleared up through other means.
Another less important change occurs as a side effect of this changed scene. When the words appear on the sword in the manga Sailor Venus is still holding it and read them easily. Here the sword is in Sailor Moon's hands, and the words appear facing her, while Sailor Venus who is on the other side of the sword manages to read them. Sailor Venus's contribution to the story continues to be marginalized as Tuxedo Mask leaves alone, with Sailor Moon in pursuit as opposed to the original story where Tuxedo Mask takes Sailor Venus and is pursued by Sailor Moon. This is sort of necessary because of the next scene.

We finally have the Shitennou's surviving this long play out in a somewhat brief exchange between the Sailor Guardians and the Shitennou. As we have mentioned before the Shitennou used to be good and there was insinuation in the manga that they were coupled with the Sailor Guardians. This was confirmed in an earlier episode. This week we have a brief fight between them and the Sailor Guardians followed by them being healed by Sailor Planet Attack. We learn that each was a knight that represented something. Zoisite was the Knight of purification and healing, Kunzite was the Knight of purity and affection, Jadeite was the Knight of patience and harmony and Nephrite was the Knight of intelligence and comfort. Unfortunately their moment of clarity was short lived as Queen Metalia quickly killed them. While I very much appreciated the addition and inclusion of this scene I was a bit upset that it was so brief. There really wasn't room for a much longer scene without cutting anything else out. Perhaps if a full episode had been added we would have had a chance to get more in depth with this story but then we wouldn't have been able to included two entire story arcs in a year of 26 Sailor Moon Crystal episodes. This was the end of the bigger changes with this episode.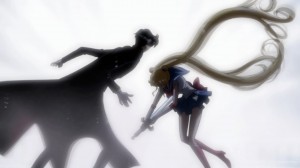 The interaction between Sailor Moon and evil Tuxedo Mask is largely unchanged. By the very fact that they are together alone for a while makes for a more intimate scene. Sailor Moon tries to win over Mamoru by showing him his watch, a symbol of their love for each other, which mirrors a similar scene from the original anime. Because they are alone we don't get to see Sailor Venus's new attack, Venus Rolling Heart Vibration. When things get hopeless Sailor Moon's last resort is to kill Tuxedo Mask and then, devastated by losing him, she takes her own life. This very violent scene is sort of integral to telling the story but it's inclusion makes one wonder why they would be cutting the earlier much less violent killing of Queen Beryl.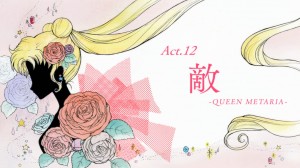 Note on the spelling of Metalia. The title of this episode has her referenced as Queen Metaria but she is referenced as Queen Metalia in the subtitles throughout the episode. The English version of the manga similarly referred to her as Metaria in the act 12 title but as Metalia within the translated pages of the story. This is due to the fact that in the Japanese title for both the words "Queen Metaria" were spelled out in English letters and translating them would have looked quite odd. The spelling of this word is highly debated amongst fans, as the meaning of the name is also subject to some interpretation. As the Dark Kingdom villains are named after gems one idea is that Metalia's name comes from "Metal". I do not pretend to know all of the absolute answers explaining all names but I have decided to use Metalia as the spelling. I think this looks more like the word is pronounced and makes more sense. As for the choice to spell it Metaria as the manga title, I simply attribute this to someone writing a Japanese word phonetically which does not necessarily conform with English spelling. There are tons of similar examples of this in Sailor Moon. If you're not sure, just as Singo.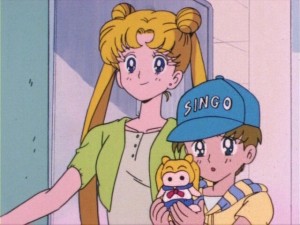 Once Sailor Stars gets a new dub I'm sure we'll have plenty of opportunities to debate the translation and spelling of words once again.
Next up on January 3rd is Act 13, Final Battle – Reincarnation. Are Sailor Moon and Tuxedo Mask dead or did they learn a lesson from 1990 the hit film Problem Child? The episode, despite it's title, will not likely include the Final Battle but it should include all of the build up to it! This will be the last full episode covering the Dark Kingdom story arc as Chibiusa is expected to arrive at the end of act 14, premiering on January 17th.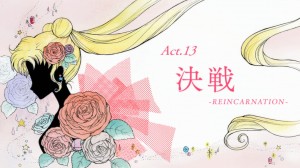 Keep reading for more screenshots from this episode and the next episode preview.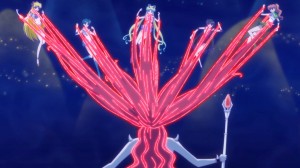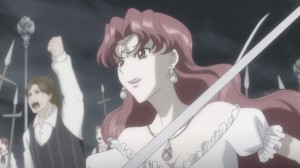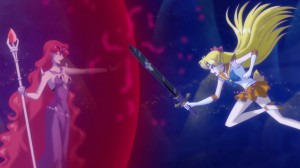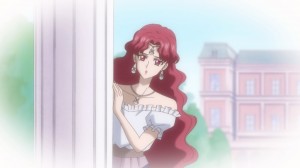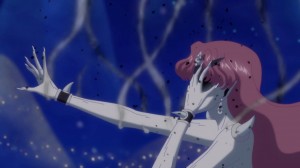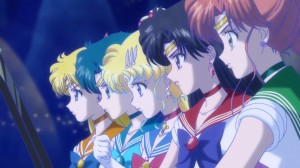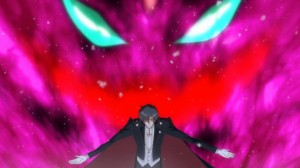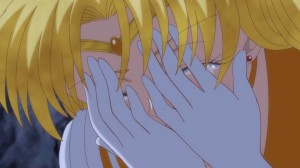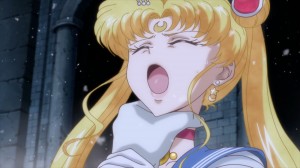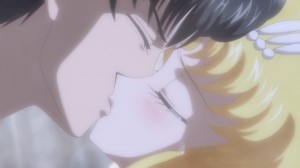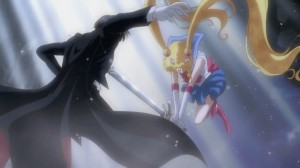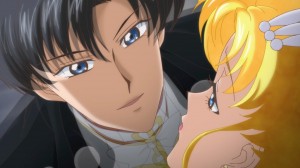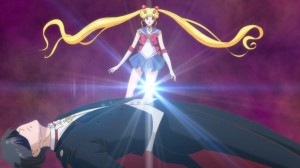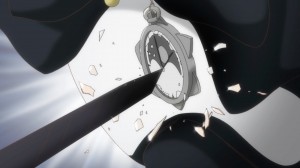 Possibly Related Posts