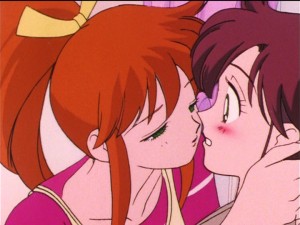 The two latest episodes of Sailor Moon S are now available to stream on Hulu and Neon Alley. This week's shows are all about love as episodes 94 and 95 deal with romance. First we have Unazuki dreaming of her first kiss and then we have a deepening of the romance between Umino and Naru.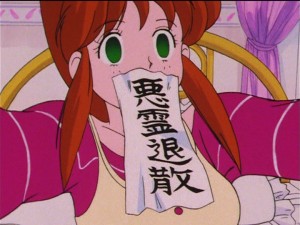 Episode 94, Protect the Pure Heart: The Three-Way Battle, is all about the purity of the first kiss. The main character and target this week is Unazuki Furuhata. Upon listening to this episode it seemed that Unazuki's voice sounded a lot like Sailor Iron Mouse's. This is because Miyako Endou, the actress who normally portrays Unazuki, did not voice her for episode 94. Instead she was voiced by Eriko Hara for this episode only. Eriko Hara also provided the voice of Sailor Iron Mouse in SailorStars as well as a number of monsters including the Dream Princess from episode 11. The main plot focusing on how pure a first kiss is. This all seems a bit silly. Yes Unazuki is young and there's no shame in saving yourself for the right person but this story takes it a bit far. This kind of purity is often associated with a first sexual experience which is in itself a bit silly, but even more ridiculous when applied to something as innocent as a kiss. There is this pervasive idea presented in this episode, and throughout the series in general, that a young woman's feelings are somehow embarrassing and that she should protect her innocence as if it was something sacred. We see this in Usagi's reaction every time it's asked if she's kissed Mamoru. To me this seems like a somewhat antiquated point of view, the opposite being to allow women to be free to decide how to pursue their sexual interests without worrying about being shamed for it. When Unazuki has her pure heart removed what remains is a sort of husk without a soul intent on kissing anything that moves, which happens to be Makoto and Usagi. This insinuates something very impure and wrong about promiscuity which seems a bit too much like slut shaming to me. Rei needs to use her scroll to suppress her sinful desires.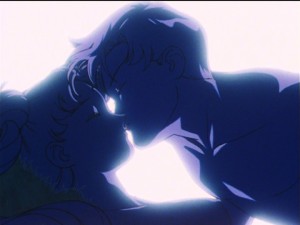 In one scene Michiru mentions that the first kiss was between Adam and Eve. This is subject to some debate but I'll avoid getting back on my soap box for this minor point. Usagi imagines the first kiss being being Adam and Eve who look just like her and Mamoru. She pictures two naked people kissing, complete with the somewhat visible outline of a nipple. No censoring on this one. It looks like they're lying in grass. Must be the Garden of Eden.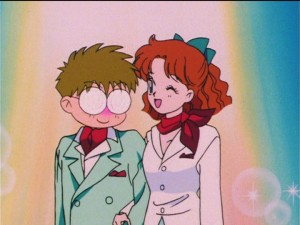 Episode 95, Let Moon Help With Your Love Problems, once again focuses on Umino and Naru's relationship. We've actually seen this touched on a number times at this point. Umino is trying to advance things, because saving someone's life a bunch of times isn't quite cutting it, so he goes to Usagi for advise. The brilliant idea is to enrol the two in a kind of game show for couples. Unfortunately Haruka and Michiru are also competing! Too bad the Death Busters have their eye on the monument they are doing all of this around. Luckily Haruka and Michiru drop out at the last minute. Why is this fortunate? Well if they hadn't then perhaps the Daimon would have targeted them for their Pure Hearts instead of Umino. How differently the series would have played out had that happened. But I'm getting ahead of myself. Umino confesses his love to Naru in an impassioned speech which brings the audience to tears just as the Daimon bursts out. Naru is targeted and once again Umino shoves her aside and takes the attack for her. This is becoming a habit for him! Oh well Umino doesn't have a Talisman. A humorous scene takes place during the battle. Some eligible bachelors invite the girls to dance. "Let's dancing". They accept and then they turn into monsters and attack them. Never accept an invitation for a dance during combat!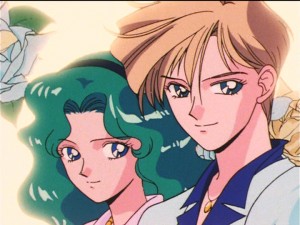 Support the site by buying the first season of Sailor Moon and DVD or Blu-Ray using the link below: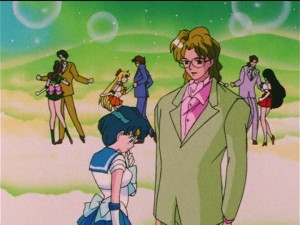 Possibly Related Posts