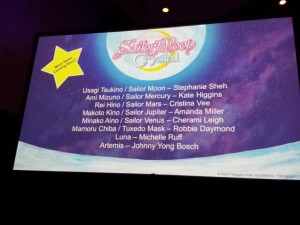 This past weekend was Anime Boston at the Hynes Convention Center in downtown Boston. At the convention Viz announced the voice cast for their upcoming dub of Sailor Moon Crystal. We've known for some time that Viz had the rights to dub Sailor Moon Crystal and it seemed only logical that the dub cast would be the same as the cast for Viz's new dub of the original anime. This has been confirmed to be the case. Only the main voice actors were mentioned but it stands to reason that all of the cast will return. The slide shown above confirms Sailor Moon, the Sailor Guardians, Tuxedo Mask and the cats are all returning.
Usagi Tsukino/Sailor Moon – Stephanie Sheh
Ami Mizuno/Sailor Mercury – Kate Higgins
Rei Hino/Sailor Mars – Cristina Vee
Makoto Kino/Sailor Jupiter – Amanda Miller
Minako Aino/Sailor Venus – Cherami Leigh
Mamoru Chiba/Tuxedo Mask – Robbie Daymond
Luna – Michelle Ruff
Artemis – Johnny Yong Bosch
This is no surprise. These voice actors are all on board to do the dub through SailorStars, the final season, so why wouldn't they also keep them to do the Sailor Moon Crystal dub?
The series will be using the updated animation used for the Japanese Blu-Ray releases. As mentioned in my reviews of these Blu-Rays there are a number of minor animation updates for these which are generally cosmetic.
Source: Fandompost
Possibly Related Posts