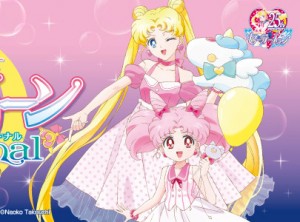 The Sailor Moon official site has been updated with an ad for some upcoming products from the Ichiban Kuji line which includes some new art! The images used in the advertisement include a look at all of the Sailor Guardians using the art style of the upcoming Sailor Moon Eternal films, which is the two part movie adaptation of Sailor Moon's Dream Arc, the continuation of the Sailor Moon Crystal series. The theme is "Let's Party" so we mostly see the characters in party dresses.
The main banner shows us Usagi and Chibiusa, though we've seen those two before in this art style so it's nothing too shocking. What's more interesting are the first official depictions of Michiru, Haruka, Setsuna and Hotaru. Though we don't know exactly at what point in the story the first Sailor Moon Eternal film will end it is unlikely these characters will have a prominent part in the film as their roles are mostly contained in the later half of the manga's Dream arc. I suspect we could be ending the movie with a brief appearance by them, but we shall see in September, assuming the film is released as it was originally anticipated.
We also see everyone in their Sailor Guardian forms which all appear to be their Super outfits, though it's a bit hard to see from the photos! You'll need to look closely to try to make out details. For the above image just click on the thumbnail and then the image size (670×1030) to view it in full size.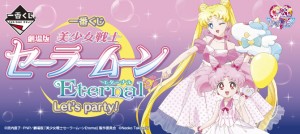 What do you think of these designs? Do you think we'll be getting Sailor Moon Eternal by September 11th 2020 are it is currently planned?
Possibly Related Posts