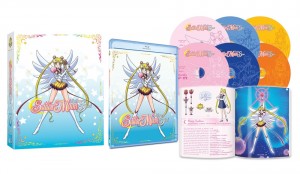 Over 23 years since Sailor Stars first started airing in Japan and nearly 19 years after the final episode of Sailor Moon SuperS was dubbed into English Sailor Moon Sailor Stars is finally available to watch in English in North America! This new dub by Viz Media includes the same actors that dubbed the first four seasons of their new dub of the Sailor Moon anime as well as Sailor Moon Crystal. Many fans have already had a chance to hear the dub as the episodes were released digitally two weeks ago. With the physical sets being released today some fans have already gotten theirs early!
The set is available to buy both in physical stores and through online retailers. As always if you order the set through the Amazon links on this page, such as those below, you will be supporting the site. A lot of copies of this release have already been pre-ordered by fans using these links. Thank you to all of you for helping to cover this site's operating costs.
What does everyone think of this new set and the new dub? Was it worth the long wait? Although I've been posting about this release quite a bit a part of me is still in disbelief that this is finally happening after all of these years! We didn't even have to buy any Pop Tarts to make it happen! Are any of you watching Sailor Stars for the first time with this release? If so, what do you think? Is Seiya a worthwhile substitute for Mamoru or clearly a better choice? Is Sailor Iron Mouse the greatest of the Animamates or your favourite Sailor Iron Mouse?
Possibly Related Posts