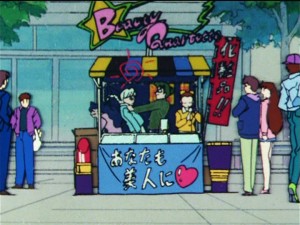 Last month Viz announced the voice actors you'll be hearing as part of Viz's new dub of Sailor Moon R once the Black Moon Clan shows up. You can currently listen to the dub of episode 60, which features the voices of Rubeus and the Ayakashi Sisters. We will be getting a lot more of these voices tomorrow as we get the dubbed versions of episodes 61 through 68 on Hulu and Neon Alley as part of the Mini Moonlight Party. The voices of Esmeraude, Saphir and Prince Demande will not be showing up as part of the first half of the season so we won't be hearing them until later this year.
Here's the cast of the Black Moon Clan:
Claudia Lenz as Koan
Cindy Robinson as Berthier
Cassandra Lee Morris as Calaveras
Jessica Gee as Petz
Steve Cannon as Rubeus
Rena S. Mandel as Esmeraude
Greg Felden as Saphir
Matthew Mercer as Prince Demande
These are mostly newly cast actors with the exception of Cindy Robinson who was previously cast as Queen Beryl and is now voicing Berthier. The cast of Viz's new dub of the original Sailor Moon anime will be reprising their roles in Sailor Moon Crystal so we will be hearing these same voice actors once the second story arc of Sailor Moon Crystal gets dubbed.
Yesterday we even received a Tweet from Rena Strober (credited as Rena S. Mandel) to let us know that she's currently working on dubbing Esmeraude! We can't wait to hear what she sounds like.
@SailorMoon_News I was back dubbing my favorite evil lady Esmaurald today!!! Can't wait to share her laughs!

— Rena Strober (@RenaStrober) May 6, 2015
It was previously announced that Chibiusa would be voiced by Sandy Fox and Sailor Pluto would be voiced by Veronica Taylor.
The first season of Viz's new dub is currently available on DVD and Blu-Ray. Sailor Moon R part 1 will be released in June. Buy these sets using the links below to support the site.
Source: Anime News Network
Possibly Related Posts