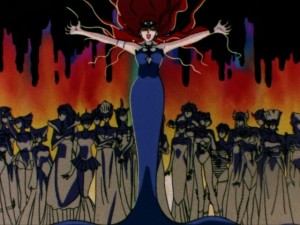 Two new clips of Viz's new Sailor Moon dub have been leaked. These feature the beginning of episodes 1 and 2. You can hear the voices of Usagi, Ikuko Mama, Jadeite and Queen Beryl. These were recorded at Anime Expo on July 5th. Viz premiered the first two episodes of their new dub at a panel where they unveiled the new cast. Recording was not allowed at the panel which is why the video is not visible. Because these only included audio I've embedded the YouTube clips to only include the progress bar.
The first clip is the beginning of episode 1, The Crybaby: Usagi's Beautiful Transformation. You can hear Usagi's opening monologue followed by the scene where she wakes up late for school and talks to her mother. Usagi is voiced by Stephanie Sheh and Ikuko Mama is voice by Tara Platt.
In this second clip we hear the first bit of episode 2, Punishment Awaits: The House Of Fortune Is The Monster Mansion. It starts out with side characters talking about the fortune house but then contains a brief exchange between Jadeite and Queen Beryl. Jadeite is voiced by Todd Haberkorn and Queen Beryl is voiced by Cindy Robinson.
Thanks to Dakota from our comments for finding these clips.
Source: Baillie Puckett's YouTube channel.
Possibly Related Posts