The latest episode of Sailor Moon Crystal, Act 13, Final Battle – Reincarnation, is now available to stream on Crunchyroll, Hulu and Niconico. This is the last full episode to cover the Dark Moon story arc so in a sense it can be considered the season finale, but the story will not conclude until the beginning of next week's episode which will also serve as a season finale. Last week's episode had some rather disappointing deviations from the original manga source material. Fans will be happy to see that this week's episode is fairly faithful, with a number of minor changes.
First, a comment on the title which, like with the manga, does little to describe what is actually going on here. We're promised the "Final Battle" but no such thing happens. There is a sort of battle with Metelia but there is no conclusion here. The battle does not finish as the final blows are not taken. Secondly the title mentions reincarnation, which does not actually happen in the strictest sense. The end of the last episode has Sailor Moon killing Tuxedo Mask and herself but they aren't actually reincarnated because neither actually died. More on that and the 1990 hit film which inspired both scenes later. But that's just me being nitpicky. And speaking of nitpicky, this episode has some pretty messed up looking animation in it. This is nothing new to the series but I wasn't this bothered by some of the less consistent animation quality since act 7 so I think it needs mentioning.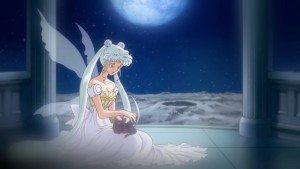 Luna continues to kick a lot of ass in this episode. She's pretty scrappy in Sailor Moon Crystal and that doesn't stop here. She attacks Metalia, this massive unstoppable evil energy. This fails, naturally, and eventually Luna asks Artemis to bring her to the Moon to consult with Queen Serenity and to beg her to seal Metalia away. In a flashback we get a look at Luna when she was a young kitten along with a much younger Queen Serenity, though still one with white hair. The Queen's dress matches Princess Serenity's quite a bit. I wonder is she was even Queen yet at this point, though we don't really know much about Queen Serenity's background or her parents. Once Usagi becomes Neo Queen Serenity she continues to keep the dress style she had as Princess. Similarly Chibiusa has that type of dress when she appears as a Princess.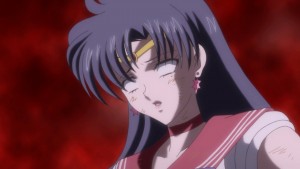 Some minor changes occurred in the Sailor Guardians' actions in the this episode. They first try to use Sailor Planet attack, which fails. This results in an odd bit of imagery showing them all with white eyes looking like zombies. Then instead of being transported back to their headquarters like they did in the manga they simply stay in the North Pole to attack again, giving up their transformation items and their lives. This is coupled with a number of inspirational flashbacks where Usagi is shown encouraging or befriending each of them, which helps them find the strength they need to keep fighting. This is very similar to a scene from the Sailor Moon R movie in which each of the Sailor Guardians has a similar flashback to encourage them to help Usagi on the asteroid.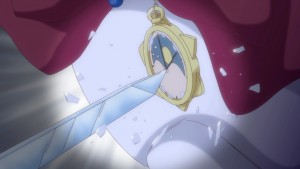 While all of this goes on Sailor Moon and Tuxedo Mask are trapped inside the Silver Crystal which itself gets consumed by Queen Metalia. While they originally appear to be dead, they are both revealed to be alive. They are not resurrected in any way. Both escaped death by the same convenient plot twist, inspired by the 1990 hit film Problem Child. In this film John Ritter's character is shot by Michael Richards but the bullet is deflected by a lucky dried prune which is in his pocket. Similarly Sailor Moon escapes death by having the sword deflected on the Orgel watch that Tuxedo Mask gave her. Tuxedo Mask escapes death by using the exact same Problem Child inspired trick of having the sword hitting the gems that he has symbolizing the Shitennou.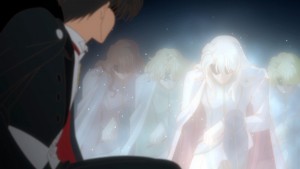 The scene with the Shitennou again shows a small change from the manga. As Jadeite, Nephrite, Zoisite and Kunzite appear as ghosts, now with their full memories and loyal to Mamoru, the gems they are linked to shatter. Originally in the manga these gems take some of the force but only chip a little. Tuxedo Mask keeps them as they make another appearance during the Black Moon Clan story arc. How this change will affect the next arc remains to be seen.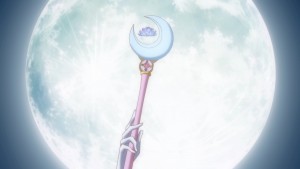 Another change is that Sailor Moon and Tuxedo Mask manage to escape from inside of Queen Metalia before the final attack. This is different even from the next episode preview at the end of Act 12 which shows Sailor Moon's Moon Stick growing into a full staff with the sky filled with Queen Metalia, which is no longer the case with the clear view of the moon seen in the final version of the episode. The final battle itself is yet to come.
Next time on January 17th we'll see act 14, Conclusion and Commencement, Petite Étrangère. The episode title as shown here has the spelling "Petite Étrangére". This is incorrect, as the second E in étrangère has an "accent grave", towards the back not towards the front. French titles also only capitalize the first letter of the first word but we'll let that one slide. This is still an improvement over the manga title "Petit Etranger" which omits the accent for the first E (the correct spelling is Étranger), a practice which is generally discouraged and lazy for upper case letters, but it is also wrong because it uses the masculine form of both words which are incorrectly used as it's a reference to Chibiusa who is by all indications very much female. I don't mean to harp on spelling too much but this is an episode title so it would have been nice for them to have done a bit of research on this one, especially in light of them having properly spelled the title of last year's musical "Petite Étrangère". The spelling of "Materia" for act 12 seems more likely to be a mistake when this case is considered.
This next episode will have the real end of the Dark Kingdom arc and the beginning of the Black Moon Clan arc. Some are referring to this as season 2. This will mark the appearance of Chibiusa, though nothing in the preview mentions anything but the conclusion of the battle with Queen Metalia and the aftermath.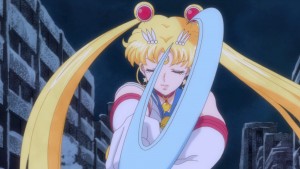 I'll be traveling on the weekend of the 17th so my review may be a bit late but I will be sure to have something posted sooner or later.
Keep reading for more screenshots from this episode and the next episode preview.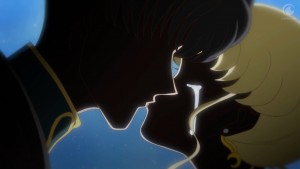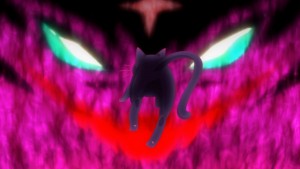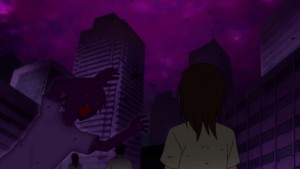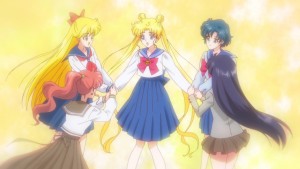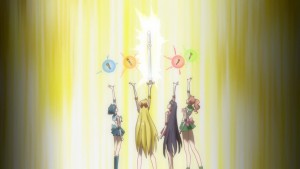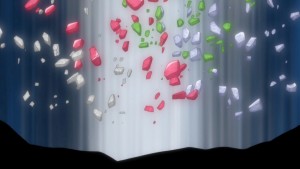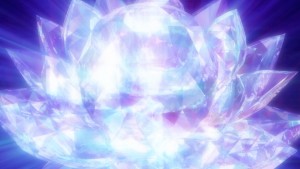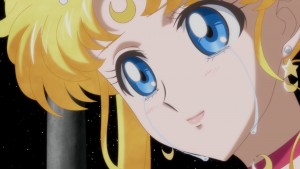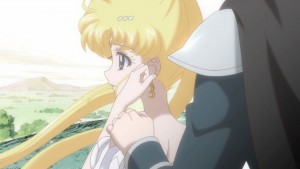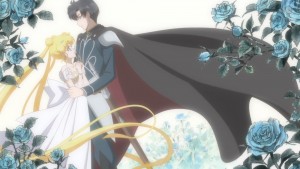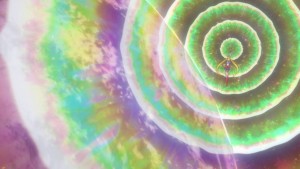 Possibly Related Posts