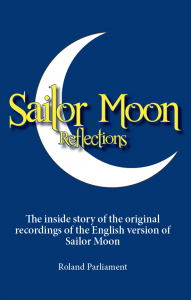 A new web site for the Sailor Moon Reflections book has been set up. Roland Parliament, voice director for the first 65 episodes of Sailor Moon and the voice of Melvin from the dub, has written this book to share stories of his time working on the series. It will included many behind the scenes tales of the DIC English dub of Sailor Moon including some photos from the time of the recording. Check out the site for more information about the book and to pre-order your own copy. A press release which was included can be read below.
THE ART OF BRINGING THE SAILOR MOON CHARACTERS TO LIFE

After Directing 65 Episodes, Voice Director Tells All

[Toronto, ON – July 8, 2014]

In the summer of '95 an iconic Japanese animated series was transformed into a monumental phenomenon that would improve the quality of English-dubbed animation forever and take the English-speaking world by storm.

Now the man who directed the voices of that cultural juggernaut reveals the process, the endlessly long hours, and the attention to detail that went into making the English version of Sailor Moon the standard by which all English translations of foreign animations are judged.

If you are a current or aspiring voice actor, writer, director, agent or producer, there is wisdom in the following pages. If you are interested in the history of Canada's performing arts, consider this work an essential chapter. If you are a lover of anime, regard this treatise as a 'must read' — an important piece to the puzzle called 'the gateway to anime'. If you are simply a fan of Sailor Moon, prepare yourself for an incredibly rare and delicious treat.

In this book, voice director, actor and teacher Roland Parliament has created a unique archive that touches on and contributes to the craft and business of voice acting, Canada's rich performing arts community and the legend of 'Sailor Moon' — in particular, the English dubbing of the iconic anime series.

- From the foreword by Terri Hawkes (a.k.a. 'Sailor Moon')

What I do want to do is to share with the reader my observations about how this series came to be what it is, and to dispel any rumors that may exist, as I know them. Keep in mind that this is told from my perspective only, based on what I saw, heard and did, and may be contrary to the actual facts.

The second thing I want to do is to share with budding voice actors the way to go about getting into this business.

- Roland Parliament on why he wrote this book

Sailor Moon Reflections, published by FriesenPress, is the inside story of the English recording of Sailor Moon, and will show readers the true, arduous work that actually took place to achieve this groundbreaking series that still receives continuing adoration. Sailor Moon Reflections is as much for anyone with an ambition to be a voice actor as it is for any fan of the series.

Sailor Moon Reflections is available for pre-order from sailormoonreflections.com in both print and e-book. It will be available soon on Amazon and most other major book retailers. The e-book edition will be available for order for the Kindle, Barnes and Noble's Nook, iTunes and GooglePlay.

About the Author

Roland Parliament is a voice actor, dialectician, composer, writer, musician and educator. He lives in Toronto, Canada. He teaches an advertising course at the Harris Institute for the Arts in Toronto. Over the past 22 years, he has been a dialects and voice acting teacher at Ryerson University and Humber College, Toronto, and a guest lecturer at the University of Toronto.

Roland has voiced thousands of commercials, and has composed and produced no fewer than 300 jingles. His company, Wizard Productions Inc., has won over 75 international awards for its work. Additionally, he has directed and acted in several animation projects.
Possibly Related Posts