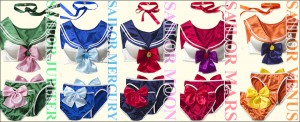 Peach John, a mail order lingerie company in Japan, is producing a line of official Sailor Moon panties, bras and pyjamas including costume lingerie! Yes that's right, these are official Sailor Moon products that are currently advertised on the official Sailor Moon site. Pre-orders are now open and run until December 25th. The items will be released in February. They can be ordered through Bandai's site.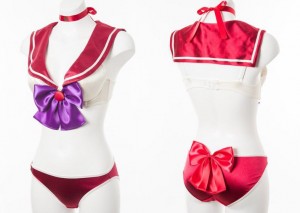 The costume lingerie (bra set) items are certain to be a popular items. You can cosplay as Sailor Moon, Mercury, Mars, Venus or Jupiter in these less than completely show accurate outfits who's designs are partly inspired by the original costumes with Sailor Moon's original transformation broach appearing on her bra but with stars appearing on most chokers which is consistent with costumes from the SuperS series. The sets come with a bra and panty piece as well as a ribbon choker. These would hardly be functional under most clothing as the bows and other awkward parts would be quite cumbersome. I'm sure fans can find an appropriate time to wear such things. Each set costs 4980 yen, about $48.50 US.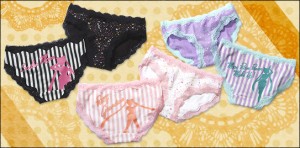 The panties come in three designs. The black pair feature a pink silhouette of Sailor Moon and the words "Sailor Moon" on the back. The white pair have an orange silhouette of Sailor Moon and the words "Pretty Guardian" on the back. The lavender pair have a green silhouette of Sailor Moon and the words "Moon Prism Power Make Up!" on the back. Each pair costs 1800 yen, about $17.50 US.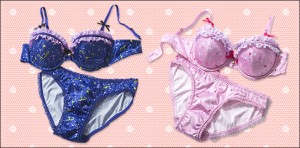 The bra and panty lingerie sets (called bra sets) come in a navy or pink designs and are decorated in moons and stars. Each sells for 3980 yen, about $39 US.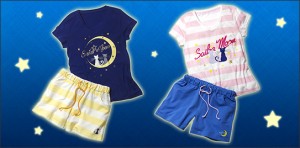 Finally the less sexy pyjamas come in a navy top and yellow stripped bottom design as well as a pink stripped top with blue bottom design. The blue colour is referred to as "sax", whatever that means. Both feature an adorable design of Luna and Artemis similar to that which has been seen in other products such as the cell phones cases. The pyjama sets are the same price as the costume lingerie at 4980 yen, about $49.50 US.
If you choose to purchase any of these items please send photos of you modelling these to the addresses on the contact page for completely professional review purposes.
Possibly Related Posts