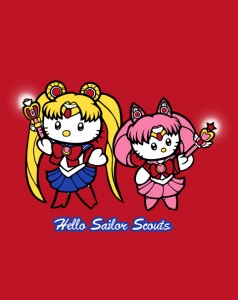 This neat looking "Hello Sailor Scouts" t-shirt, crossing the worlds of Sailor Moon and Hello Kitty, is available at ShirtPunch today, April 9th, from midnight to midnight EST. Pick it up in the next 24 hours for $10 because after that it's gone forever!
The characters on this shirt, obvious parodies of Sailor Moon and Sailor Chibi Moon, are named Sailor Meow and Sailor Mini Meow! Sailor Meow is shown with the Spiral Heart Moon Rod, which makes sense given this is the item Sailor Moon has when Sailor Chibi Moon first appears. To be a bit nitpicky Sailor Meow's broach and tiara are consistent with earlier designs as neither of these items coexisted with the Spiral Heart Moon Rod or the presence of Sailor Chibi Moon. This version of Sailor Moon would have had a heart shaped broach and a crescent moon on her tiara. Sailor Mini Meow's Pink Moon Stick is the one that Sailor Chibi Moon had in her Sailor Moon S form, prior to her transformation into Super Sailor Chibi Moon, so that is consistent as well.
The shirt is designed by Jelly Soup Studios. You can check out her web site Jelly's Sketchbook for more of her art.
Possibly Related Posts