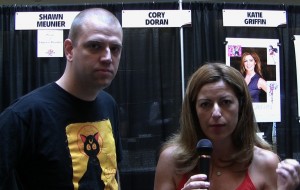 Here's our interview with the very talented Katie Griffin, best known to Sailor Moon fans as the voice of Sailor Mars for almost all of the English dubbed episodes of Sailor Moon.
In this interview Katie talks about her time on Sailor Moon, the casts's willingness to come back for the 2013 anime if asked and other works she's done.
Fans of voice actor Cory Doran will spot a cameo by him lurking around the background of this video.
Possibly Related Posts